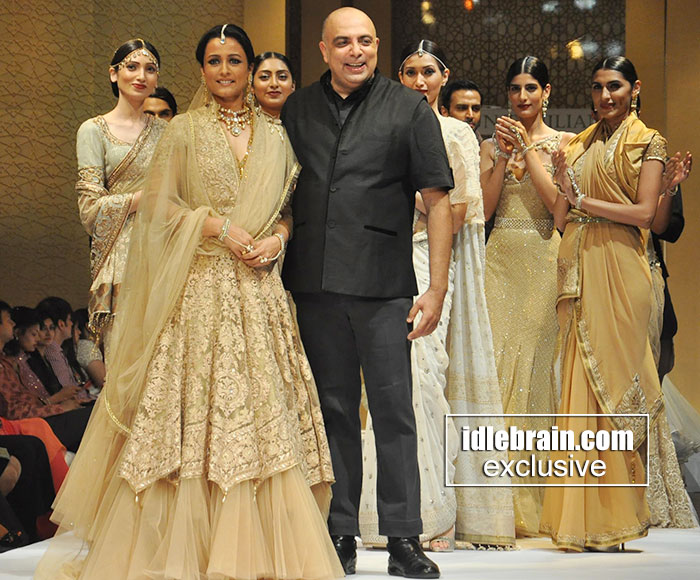 13 September 2013
Hyderabad
An effortlessness that lets the fabric be, a Kumbh mystery, unlocked; the faith of saffron, reconstructed! – This is the essence of the Tarun Tahiliani Autumn Winter collection 2013 -14that was presented in association with Trident, Hyderabad on the ramp at Kaveri, today along with the stunning Gold Collection. A special installation of the latest Couture and Bridal collection was on display at the venue as well.
 The Kumbhback Collection
Glimmers of sunrise saffron meet exuberant outbursts of fiery, marigold (genda) oranges, in Ombre embroideries; deep blues and Aubergines, the colour of midnight skies (the kinds you mull upon in Kumbh-induced awakenings), at play here, embracing a multitude of techniques and designs and fabric - including laser etching, zardozi, appliqué, bandhani, jamewar, tie and dye, velvet, animal prints, satin, thick jersey - to reveal a sensual Autumn-Winter collection.
 Skirts, kurtis, jackets, dresses, the signature Tarun Tahiliani concept saris, gilets and accessories too (from bags to belts and stoles, and bajubandhs), are all imbibed with the distinct mood of India Modern - nestled deep within the designer's own sensibilities. The menswear includes dapper jackets, bandhgalas and trendy jodhpurs that can be worn for any occasion. The silhouettes are clean, but complemented with the strokes of drapes, the designer's trademark, and are yet completely wearable. In fact, this studio shows samples exactly as they are to be worn, and yet, there is a huge range of possibilities in the looks, because of the strictly adhered to colour palette, which allows for a completely uninhibited mix and match. So, wear a draped jersey skirt with a jersey and organza kedeo inspired jacket. Or switch to a folded drape – the possibilities are limitless, allowing for a true reign of expression, which is how it should be, when fabric is genuinely draped on the body..