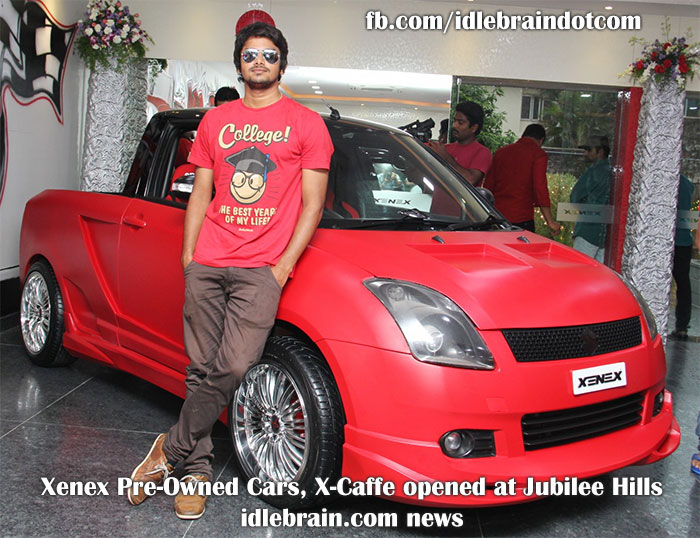 12 July 2013
Hyderabad
Hyderabad, July 2013: Xenex Automotive pvt ltd opened its Pre owned cars showroom and X - caffe at Road no 10, Behind Vac's Pastries, Jubilee hills in Hyderabad . Xenex introduces its first and exclusive showroom with wide range of products and value added services conceptualizing to give an outlet which shall provide a one-stop solution for finance, insurance, xenex customs, and makeover. With 10 years of experience and with through study in providing a one stop solution for customers the company has designed this concept.
X- CAFFE brings in modern and pleasant ambience in open space, decorated with theme. It serves Hyderabadi irani chai , samosa , Biscuit.
Tollywood Actor & Producer RK Mama (The Angrez Movie Fame), including actors and directors, inaugurated various divisions of Xenex Automotives. Various cars with sporty looks, which were displayed on the occasion, stole the show.
Mr Amithineni Amar Babu- Xenex Automotives managing partner said wider range of products and services under one roof makes their outlets clearly stand separate from the rest of the industry with wider and exclusive range of facilities, products and value-added services made available.
"Luxury sports utility vehicles (SUVs) and sedans come for a premium. We have acquired the latest technology to design and convert Maruti Swift, Ritz, Alto, Servo, Hyundai i10 and i20, and other sedans into sports and funky cars."Amar said.