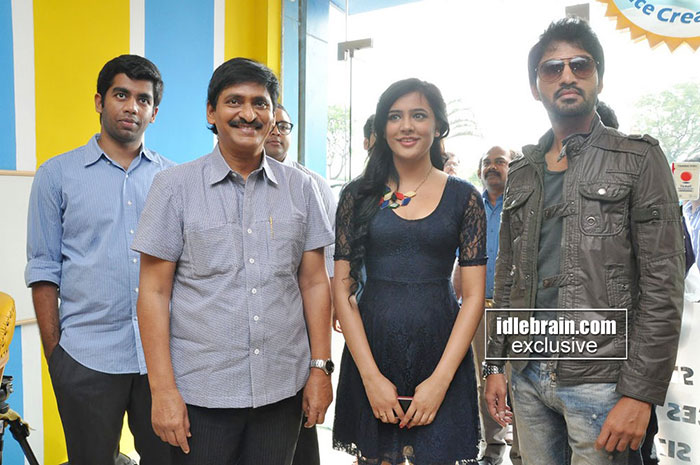 20 November 2014
Hyderabad
Hazzel Gets Best Indian Ice cream Award
Actors Diah Nicholoas , Satish Unveil Flavours
City-based Ice Cream Cafe 'Hazzel' has bagged the prestigious 'Best Indian Ice Cream Award'.The Ice cream cafe located in the upmarket Banjara hills, has received the award at the Indian Hospitality Awards 2014 ceremony held at Hitex.
On the occasion,Yamaleela-2 Movie Actors Diah Nicholoas, K.v Satish, Director S.v Krishna Reddy, producer Arun Kumar and others were center of attraction in the event and Unveil the Ginger flavour and food menu at Banjarahills Cafe. The stars were cozy after the menu tasting different types of Ice creams in the premises. Speaking at the occasion, Diah Nicholoas , Satish said that the Yamaleela-2 is a family entertainer where people from all the age groups can watch and enjoy the movie.
Speaking to the media at, Hazzels directors Mr J.Vinay and Sunil Reddy said the award organisers had invited entries in 56 different categories and that the 'Best Indian Ice cream Award' in India was bestowed upon Hazzels." awards were given under aegis of the Indian Hospitality Association and Epicurus," they said.
With over 10 years of experience in the hospitality industry, our organisation presently owns and operates Ice Cream Café in Jubilee Hills, Gachibowli .We are in the plans to expand outlets in Miyapur, Kukatpally, Vijayawada, Vigaz by the end of Next year and Chennai, Bangalore in Karnataka State. each of the proposed franchisee investment of 50 to 60 Lakh.