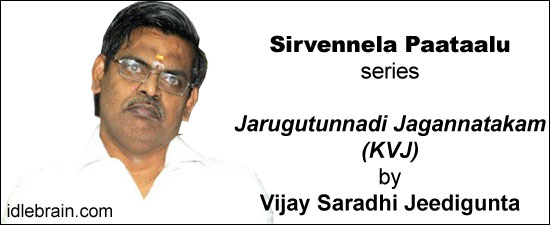 Sirivennela is the living legend of Telugu cinema. He stands as a living testament of uncompromised standards of Telugu lyrics of Telugu cinema. Idlebrain.com is starting a series called 'Sirivennela Paataalu (Sirivennela lessons)' written by Vijay Saradhi Jeedigunta. Jarugutunnadi Jagannatakam (from KVJ) is best way to start this tribute -
While watching the Krishnam Vande Jagadgurm Audio function live on TV when I heard Sirivennela Garu making a statement that may be for writing this title song of the film, he has been penning lyrics for Telugu films for more than 28 years, I was totally flabbergasted. It kind of put me in a state of disbelief especially being an ardent fan of his songs ever since he wrote for films with his first song of Sirivennela wherein he put his stamp of authoritative style by saying ' Virinchinai Virachinchithini'.
Since then I became a blind and sometimes a biased follower of Sirivennela Sitarama Sastry gari Cinema Patalu ( Film Songs) while considering many of his songs as Jeevitha Paataalu (Lessons of Life). So obviously, I was very much excited and became curious to know how come Guruvu garu could make such a bold statement in KVJ's audio function. But it did not take more than 24 hours for me to realize why he said that. Yes, though it may sound an exaggeration, this song in Telugu film music should be considered as the ultimate song that touched the pinnacles of philosophy behind the holy book of Bhagavadgeetha and interpretation of Dasavatharalu from a human point of view. For a listener like me whose music and literary knowledge source was mostly Telugu and Hindi Film song,s it is the song that taught me more about Dasavathaaralu in such prose and poetry which is rendered for just 9.24 minutes than any 1000 page book could possibly do. Being able to co-relate the Bhagavadgeetha and Ashta Siddhulu to a human being and making an argument that every human being is a God himself if he realizes his potentials and strengths given to him to by birth is something which needs tremendous knowledge about the subject and an ablity to think beyond box. Guruvu Garu has shown ample evidence of those qualities by describing every Avatharam of the Dasavathara Puranam essentially as a characteristic of the human being himself if he gets the irony behind each of those incarnations of Sri Maha Vishnu.
Just to quote couple of the lines from the song...
నరుడి లోపలి పరుని పై దృష్తి పరుపగా.....
తలవంచి కైమోడ్చి శిష్యుడవి నీవైతే....
నీ ఆర్తి కడతేర్చు ఆచార్యుడువి నీవే...
It is just impossible to have this kind of poetry and message in today's film songs , that too if the movie is a pukka commercial one.. But Sastry garu was given enough space to unleash his thoughts freely by Krish. Manisharma composed a remarkable tune which was sung so expressively and powerfully by SPB. Finally, Rana embraced it wholeheartedly to create one of the all time great songs of Telugu Film Industry. The result is there for everybody to be just felt. I for myself was instantly hooked to the song and heard it more than 1000 times till now to understand the essence of the song and am now convinced why Sirivennela garu told the audience that...
బహుశా ఈ రచన చెయ్యాడానికి గత 28 సంవత్సరాలుగా ఈ రంగం లో ఉన్నానా అని అనిపించింది నాకు...
దీని తరువాత ఇంకేదైనా నేను రచన చెయ్యొచ్చునా....
చెయ్యవలసిన అవసరం ఉందా అనిపించేంత పరాకాష్ట కి తీసుకెళ్ళి పోయినటువంటి రచన....
Yes , this Dasavathara Rupakalpakam, though it has just eight incarnations of Sri Mahavishnu, since there are disputes about the other two incarnations Guruvu garu I believe did not even include them in this, is one of the best lyrics that came on Telugu Film screen and there are no two arguments about it. Guruvu garu should really feel lucky that he been was provided with such an opportunity. Though in Maa Music awards Trivikram Srinivas said it is unfortunate that poets like them are confined to just Film lyrics otherwise they would be considered even greater than they are, I beg to differ from him and feel not only us as listeners of film music are fortunate enough to reach his writings and philosophy but Guruvu Garu also reached more audience than he would have reached had he not chosen the film medium. Trivikram Srinivas చెప్పినట్టు మనది అదృష్టమే కానీ నా దృష్టి లో ఆయనది దురదృష్టం మాత్రం కాదు, ఎందుకంటే శ్రోతలకి, పాఠకులకి సులభం గా చేరగల మాధ్యమం లో వున్నందుకు ఎన్నో రకాల భావాలకి (Emotions) , సందర్భాలకి (Situations) , వ్యక్తిత్వాలకి (characterizations), సంబందాలకి (relationships) తగ్గట్టు గా సినిమా పాటల్ని ఆయన సొంత బాణి లో రాసే అవకాశం దొరికినందుకు మనతో పాటు ఆయన కూడా అదృష్తవంతుడే అని నా ప్రగాఢ నమ్మకం.
So being fortunate enough to listen to his songs and living in the same time as he is, Guruvu Gari statement in Audio Function of KVJ made me to embark upon my lifelong ambition of compiling all his great songs at one place. Sirivennela pATalu (సిరివెన్నెల పాటలు) always have been Sirivennela pAThAlu (సిరివెన్నెల పాఠాలు) for me ever since I heard his first song in K Viswanath's Cult movie SIRIVENNELA.
Coming back to the title song of KVJ, Prior to this, I very well remember that during my life time at least six times I have gone through the exercise of writing down the songs after listening many a time to be able to follow the words in order to understand the meaning and crux of the content that the the lyricist is conveying.The last time I did was way back in my engineering college days. I was forced to go through the same exercise after almost a quarter century for KVJ's title song. జయభేరి లో 'మది శారదా దేవి మందిరమే', మనుషుల్లో దేవుడు లో 'వరూధునీ ప్రవరాఖ్యుల ఘట్టం', భక్త కన్నప్ప లో 'కిరాతార్జునీయ ఘట్టం' , శంకరాభర ణం లో 'ఓంకార నాదానుసంధానుమౌ గానమే' , సిరివెన్నెల లో 'విధాత తలపున' and స్వరకల్పన లో ' సరిగమ పదనిని నీ దానిని ' are those other six songs.
So hearing from guruvu garu that writing 'కృష్ణం వందే జగద్గురుం' song is పరాకాష్ట (Ultimate achievement) of his film lyricist career I thought I should not delay any more in penning down my thoughts, interpretations and opinions as I have promised Jeevi of Idlebrain long back. I decided that my laziness should no more overtake my zeal in putting them in writing. These songs truly are bigger lessons to me than what I learnt in the School, College, University, Professional and Personal life. Starting with this post I am planning to go back in time and recollect all those songs in chronological order dating back to the first song that he wrote for K Viswanath's 1986 film Sirivennela.
I request everyone who are spending their valuable time for reading my personal observations and understanding of his great lyrics in these posts to take my take on his songs as his ardent fan, follower and who got influenced and changed the course of life and attitude towards many things and other human beings. This precisely is the reason why I consider Sastry garu too as a God as far as Telugu Film Song Lyrics are concerned as much as I consider Sachin as the God of Cricket, It doesn't mean I have lower regards to other great lyricists and other great cricketers whose songs and innings too have excited and impressed me many times.
Let me also clarify one more thing, I am just a good listener of songs and have never learnt music or for that matter am also not a Telugu Literature freak. Yandamoori and his contemporary writers' books and my father's short stories are the closest I have gone to Telugu literature in addition to Chandamama Magazine and most of the Film Magazines. I am just like an average listener like most of you and used to get updates on Telugu films from IDLEBRAIN.COM to satiate my love of Telugu Films while I was in USA for more than 18 years during last two decades. So please do keep it in the mind while reading my prose on Satry Gari poetry that I am prone to make some mistakes and will admit them wholeheartedly if any corrections are made. I am not going to debate on any opposite views, but welcome them along with any tidbits, facts or related stories about these songs. .
Let me tell you one very interesting thing here, during my many meetings with Guruvu garu, he always stressed the fact that people relate to his songs more because he writes nothing new and just puts in the thoughts in his songs which everybody knows very well but in their busy life forgets to notice the significance and importance of them. I agree with it completely.
Since I have already claimed am not a Telugu Pandit, I had to rely on one of my close friends Voleti Paarvateesam of Doordarshan and Guruvu Garu himself for giving the exact meaning of some of the words in this song. I am just putting in word to word meaning only to those difficult lines that are hard to comprehend by an average Telugu speaking/writing/understanding guys like me. I thank Jeevi for providing me a platform to express my feelings about one of the greatest lyricists of our times. Sirivennela Sitarama Sastry Garu. So, here goes the best of his best from KVJ.
సిరివెన్నెల పాఠాలు
SONG NO. 001: JARUGUTHUNNADI JAGANNATAKAM
FILM : KRISHNAM VANDE JAGADGURUM
MUSIC : MANISHARMA
VOICE : SP BALASUBRAHMANYAM
DIRECTOR : RADHAKRISHNA JAGARLAMUDI
LEAD CAST : RANA & NAYANTARA
YOUTUBE LINK FOR THE SONG : http://www.youtube.com/watch?v=lAYGbJ4H3nk
జరుగుతున్నది జగన్నాటకం...
జరుగుతున్నది జగన్నాటకం...
పురాతనపు పురాణ వర్ణన పైకి కనపడుతున్న కథనం.
నిత్యజీవన సత్యమని భాగవత లీలల అంతరార్ధం.
What a way to start the song.. telling us that what weconsider as the narration of ancient scriptures is in fact nothing but what we need to apply to our daily routine of today. I don't know if the reason for using the Jagannatakam (Play of the World) and Jagadgurum (Teacher of the World) to start and end the song is either deliberate or a coincidence but it definitely is an intellectual thought.
చెలియలి కట్టను తెంచుకుని విలయం విజృంభించునని..
ధర్మమూలమేమరిచిన జగతిని యుగాంతమెదురై ముంచునని...
సత్యవ్రతునకు సాక్షాత్కరించి సృష్టి రక్షణకు చేయుతనిచ్చి...
నావగ త్రోవను చోపిన మత్శ్యం కాలగతిని సవరించిన సాక్ష్యం...
The tsunami that is going to destroy the world by breaking the sea shores as we ignore the ethics and morals that define the daily routines of the human race and are forced to face the end of the world is being saved by a small fish. The fish, which confronts King Satyavratha and tells him that it s going to change the way the world needs to take shape by saving the cycle of life and evolution of the world by changing itself into a ship to show the destination to the human race where it belongs is the essence of Matsyavatharam. "అవసరమొస్తే ఒక చిన్న చేప సృష్తి రక్షణ కోసం ఒక పెద్ద ఓడ గా మారి కాల గతి ని మార్చగలదు." So it doesn't matter how small we are but still have the capability to do bigger things that can change the world forever is what Guruvu Garu trying to convey through this description of Matsyavatharam in his inimitable style.
The way he conveyed Kurmaavatharam is even more resounding in expressing his philosophy that Patience and Perseverance with never quit and never say die attitude is going to result in victory, no matter how long it takes.
చేయదలచిన మహత్కార్యము మోయజాలని భారమైతే...
పొందగోరినదందలేని నిరాశలో అణగారి పోతే....
బుసలు కొట్టే అసహనపు నిట్టూర్పు సెగలకు నీరసించక....
ఓటమిని ఓడించగలిగిన ఓరిమే కూర్మమన్నది...
క్షీర సాగర మధన మర్మం....
When you venture into doing great things the burden may become too much like Mandhara Parvatham (Mount Mandhara) and it may keep falling. But take an attitude of never quit and defeat the failure itself by rising again and again every time you fall down. The way he used 'బుసలు కొట్టే అసహనపు నిట్టూర్పు సెగలకు' which means Snake Vasuki's posionous breath that's getting exhaled turning the matters even worse and trying to stop you to proceed further.by making you extremely weak. But keep churning the ocean with patience and perseverance till you get what you desired .
Varaahavatharam description is pretty straight forward, I thought. Though the words he chose to use for కోరలు (దంష్ట్రుల) and ధైర్య వంతమైన (ధీరోధ్ధతి) are something that I learnt the meaning only after listening the song.
ఉనికిని నిలిపే ఇలను కడలి లో కలుపగనురికే ఉన్మాదమ్మును...
కరాళ దంష్ట్రుల కుళ్ళగించి ఈ ధరాతలమ్మును ఉధ్ధరించగల...
ధీరోధ్ధతి రణ హుంకారం... ఆదివరాహపు ఆకారం....
Narasimhaavatharam is described in detail and many words will make you think if its Telugu or not... but its pure Telugu and once you understand these words and their meaning, you will really appreciate how Guruvu Garu gave his view on Bheebhathsa Rasam..
Prahlada's answer which we are all very much aware of ' ఇందుగలడందు లేడని సందేహం వలదు' was interpreted by Guruvugaru as God is everywhere and forms the పంచభూతాలు ( Five Essential Elements of the Universe). నేల, నీరు, నిప్పు, గాలి &, నింగి ( Earth, Water, Fire, Air & Sky or Space ) which are nothing but the five constituents of Universe are compared to be within every human body. Thereby Sastry Garu emphasized the fact that మానవుడే మాధవుడు (Man is a God himself) when he questions what he is made up of...
ఏడీ ఎక్కడరా.. నీ హరి దాక్కున్నాడేరా భయపడి ...
బయటకి రమ్మనరా ఎదుటపడి... నన్ను గెలవగలడ తలపడి....
నువు నిలిఛిన ఈ నేలను అడుగు... నీ నాడుల జీవజలమ్మును అడుగు...
నీ నెత్తుటి వెచ్చదనాన్నడుగు... నీ ఊపిరిలో గాలిని అడుగు...
నీ అణువుల ఆకాశన్నడుగు.. నీలో నరునీ హరినీ కలుపు..
నీవే నరహరివని నువు తెలుపు....
The following lines were the most difficult ones for me to understand and it took me lot of effort, references and discussions. I am giving the lyrics of this particular charanam along with the meaning of the words for others to interpret what exactly Guruvu Garu may have meant.
ఉన్మత్త (మదించిన ) మాతంగ (ఏనుగు) భంగి ( విధంగా) ఘాతుక వితతి (పాప సుమూహము)..
హంతృ (హంతకులు) సంఘాత (సంఘ విద్రోహులు) నిర్ఘృణ (దయలేని వారు, కఠినులు) నిబడమే (నిండి ఉన్న) జగతి (ప్రపంచం)..
అఘము (పాపము) నగమై (కొండంతై) ఎదిగే (పెరిగే) అవనికిదె (భూమికిదే) అశనిహతి (పిడుగుపాటు) ...
ఆతతాయుల ( గర్భస్థ శిశువును సంహరించేంత దుర్మార్గులు) నిహతి (నిర్జించడం ) అనివార్యమౌ (తప్పనిసరి) నియతి (నీతి) ..
శితమస్తి (ఏనుగుల సమూహం) హత ( చంప గలిగే) మస్తకారి (కుంభస్థలానికి శతృవు లేదా సింహం) నఖ (గోళ్ళు) సమకాశియో (సమానమైనది) ..
క్రూరాసి (ఖడ్ఘం) గ్రోసి (ఖండించడం) హుతదాయ ( అగ్ని దేవుడి) దంష్ట్రుల (మంటలు) ద్రోసి (త్రోసి) మసిజేయు ( కాల్చి మసి చేయడం) మహిత ( మహనీయమైన) యజ్ఞం (యజ్ఞం) ...
The meaning of this charanam is something I don't want to attempt in English, Here is what I understood in Telugu. "హంతకులు, సంఘవిద్రోహక శక్తులు, కఠినాత్ముల పాపపు సమూహాలు మదమెక్కిన ఏనుగుల్లాగా పెరిగి భూమికి కొండంత భారమై గర్భస్థ శిశువుల్ని సైతం చంపె పరిస్తితి ఎదిగితే ఒక పిడుగుపాటు లా వచ్చి వారిని తప్పనిసరిగా సంహరించదమె అసలు సిసలైన నీతి. ఏనుగుల సమూహాన్ని చెల్లా చెదురు చేసి చంప గలిగే సింహం తన గోళ్ళ తొ ఆ కుంభస్థలాన్ని చీల్చి చెండాడి ముక్కలు ముక్కలు గా నరికి అగ్ని దేవుడి మంటల్లొ ఆహుతి చేసే మహా యజ్ఞమే ఈ నరసింహావతారం."
అమేయమనూహ్యమనంత విశ్వం..
ఆ బ్రహ్మాండపు సూక్ష్మ స్వరూపం.. ఈ మానుష రూపం...
కుబ్జాక్రుతిగా.. బుధ్ధిని భ్రమింపజేసే... అల్ప ప్రమాణం...
ముజ్జగాలను మూడడుగులతొ కొలిచే త్రైవిక్రమ విస్తరణం...
జరుగుతున్నది జగన్నాటకం.... జరుగుతున్నది జగన్నాటకం....
In this universe which is immeasurable, unimaginable and infinite, a human being is just nothing but a miniscule. But he possesses a great virtue called thought with which he is capable of travelling all across the universe and can grow bigger and bigger to control all three worlds with just three steps.
పాపపు తరువై.. పుడమికి బరువై... పెరిగిన ధర్మగ్లానిని పెరుకగ..
పరశురాముడై.. భయదభీముడై.. ధర్మాగ్రహ విగ్రహుడై నిలఛిన...
శోత్రియ క్షత్రియ తత్వమె భార్గవుడు...
మహవృక్షం లా విస్తరించిన పాపాలు భూమి కి బరువైతే దాన్ని కూకటి వేళ్ళ తొ సహా సమూలం గా పెళ్ళగించి ధర్మాన్ని , ఆగ్రహాన్ని సమపాళ్ళ లో వ్యక్తపరచగలిగే సాత్వికుడైన ఖ్షత్రీయుదే భార్గవ రాముడు.
Which in turn tells us that we need to have both Sthotreeya ( brahmanathvam) and Kshthreeya (Kingly) thathvalu (Philosophies) together to be able to deal with situations.
ఏ మహిమలూ లేక.. ఏమాయలూ లేక.. నమ్మశక్యం కాని ఏ మర్మమూ లేక....
మనిషిగానే పుట్టిఉ మనిషిగానే బ్రతికి...మహిత చరితగ మహిని మిగలగలిగే మని కి...
సాధ్యమేనని పరంధాముడే రాముడై ఇలలోన నిలచే...
Guruvu gaaru described Raamavatharam in the simplest manner to give the significance of a simple human soul called Rama.... the word 'మని' may not be easily understood by most of us. It means Lifestyle. Without having any tricks , magic or charms just by living as a simple human being by following certain principles you can still will be able to do great things and attain greatness.
ఇన్ని రీతులుగా ఇన్నిన్ని పాత్రలుగా.. నిన్ను నీకే నూత్న పరిచితునిగా
దర్శింప జేయగల జ్ఞానదర్పణము... కృష్ణావతారమే.. సృష్ట్యావరణ తరణము....
అనిమగా, మహిమగా, గరిమగా, లఘిమగా, ప్రాప్తిగా, ప్రాకామ్యవర్తిఘా, ఈశత్వముగా, వశిత్వమ్ముగా
నీలోని అష్టసిధ్ధులూ నీకు కనపట్టగా... సస్వరూపమే.. విశ్వరూపమ్ముగా...
The essence of Krishnavatharam and Bhagavadgeeta is that you are a different individual to different people and will be enacting several roles in order to deliver different duties and responsibilities. Everytime you will be getting introduced to a new soul within you if you see your self in the mirror of wisdom that you attain. This is nothing but the same philosophical words that Sastry garu spoken in the KVJ audio function by saying "మనిషి బతకడానికి చెప్పిన గొప్ప తాత్వికత భగవద్గీత".
The way Guruvugaru brought the Ashta Siddhi's into the song is just amazing. I thought by giving the meaning of the ashta sidhdhi's this can be better understood by all what guruvu garu conveyed in this song -
There are eight or Ashta Siddhis which are spoken about in the ancient Indian scripture the Rig Veda. The Siddhis spoken here are those of super human abilities.
Anima -The ability to reduce yourself to the size to the tinniest particle and turn invisible.
Mahima- The ability to grow to the size of the largest thing in existence.
Garima – becoming the heaviest thing in existence.
Laghima -The ability to become like the lightest particle and fly.
Prapti - Being in any or all places at the same time.
Parakamya -The ability to manifest your thoughts into reality.
Eesatva -The ability to make all act as per your wishes.
Vasitva -The ability to attain the absolute.
These Siddhis can also be interpreted as having the ability to make your consciousness do absolutely anything, i.e., the abilities to become a Superman on the mental level.
So when you realize these Ashta Siddhis within yourself,
సస్వరూపం ( నీ రూపమే...) నీకు విశ్వ రూపం ( నీలొ విశ్వాన్ని) చూపిస్తుంధి.
నరుని లోపల పరునిపై దృష్టి బరుపగా తలవంచి కైమోడ్చి శిష్యుదవు నీవైతే నీ ఆర్తి కడదేర్చు ఆచార్యుడవు నీవే.....
వందే కృష్ణం జగద్గురుం.... వందే కృష్ణం జగద్గురుం....
కృష్ణం వందే జగద్గురుం.... కృష్ణం వందే జగద్గురుం....
కృష్ణం వందే జగద్గురుం..
Finally, in just one line Guruvugaru expressed the whole of Krishnam Vande Jagadgurum Thatvam. నీ లోపలి ఆ పరుడు (Real Soul) ని నువ్వు గుర్తిస్తే, అతనికి శిరసువంచి దాసోహమైనప్పుడు నీ బాధలు, కోర్కెలు, ఆశలు, ఆశయాలు సాధింప చేసే గురువు నీవే అవుతావు. This one line which inspires the real soul in you and is the essence of this song in just one line is a lesson while describing the incarnations of Sri Mahavishnu makes it an extraordinary one and qualifies it as one of the సిరివెన్నెల పాఠాలు rather than సిరివెన్నెల పాటలు.
Lets salute the Lord krishna who is the Guru of this Universe. I also take this opportunity to bow my head to Cinema Paatala Jagadguru Sirivennela Sitarama Sastry Garu for giving this epic song.
VIJAY SARADHI JEEDIGUNTA.