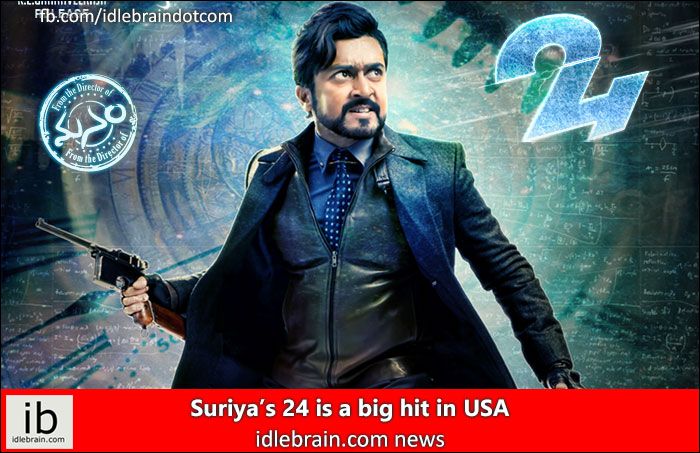 10 May 2016
Hyderabad
Though regarded as one of the finest actors on Indian screen, Suriya didn't get his due in USA because he didn't have a solid universal hit after USA market has expanded. His last universal hit (which includes multiplex and overseas crowds) was Ghajini. The same combination (Suriya and Murugadoss) delivered 7Aum Arivu (7th Sense in Telugu) got terrific openings, but didn't sustain in long run. Though his Singham was a blockbuster and turned out to be a franchise film, it is never meant make cash registers ring in USA.
Vikram K Kumar has a special place in hearts of Telugu movie lovers because of Manam. His prior film Ishq was hailed as a sensible love story and was a good commercial hit. It was a risky proposition for Suriya to act in and produce a film based on Time Travel. But most of his resounding successes have foundation in different subjects (Siva Putrudu and Ghajini). He has half of his costs covered as it's a bilingual and has pretty good market in Telugu too. His films Siva Putrudu (Pithamagan), Ghajini and Yamudu (Singham) were big grossers in Telugu.
Suriya went a step further and attended the premieres of 24 in Bay Area, USA. With the good will Manam has created, the unique fan following for Suriya and the curiosity trailers have created, 24 has generated good numbers for premieres. Good reviews and positive mouth talk helped. The collections were pretty good in the weekend and the film 24 (Telugu + Tamil) to cross 1 million dollars by Sunday. This is the first Million dollar film for Suriya in USA. Vijay has scored his 1st Million dollar film a month back with Theri. Samantha who acted in 1st reported Million dollar south Indian film Dookudu has continued good selection of subjects. 24 is her 8th million dollar film in USA.
24 film has collected $1,111,965 so far in USA and $1,180,328 in North America so far. It's expected to cross $1.5 million easily. Incidentally, this is the 4th consecutive million dollar film for USA distributor CineGalaxy after Bhale Bhale Magadivoy, Nannaku Prematho and Theri. As this film is picked up at a reasonable price, distributor and exhibitors in USA are in for good profits!!