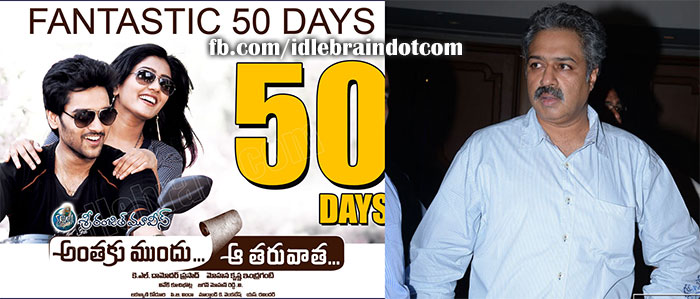 11 October 2013
Hyderabad
On the occasion of the 50th day of our 14th Film "Anthaku Mundu Aa Taruvatha", I would like to express my deepest gratitude to one and all who have contributed enormously to its grand success.
Ranjith Movies, established in 1972 by Mr.K.Ranjith Kumar, has distinguished itself as a company with the highest aesthetic and moral values. The twelve films produced under Ranjith Movies have received extraordinary accolades from the public, the critics and the film industry alike.
After renaming Ranjith Movies as Sri Ranjith Movies in 2007 I have produced two films "Ala Modalaindi " and " Anthaku Mundu Aa Taruvatha" -- both of which have garnered huge public and critical acclaim. They have proved right, beyond doubt, my belief that there is nothing like a small film or a big film. Any film that enjoys public and critical acclaim is a big film.
On this joyous occasion I would like to thank, first and foremost, the audiences, who have time and again supported our company and the films we have produced with outstanding enthusiasm. It is their support that fuels our endeavours.
Similarly, no independent film can survive without the support of the media. Ala Modalaindi and Anthaku Mundu Aa Taruvatha have received unprecedented media support, thanks to which these films have reached the widest possible audiences in spite of very difficult obstacles. I express my heartfelt thanks to both the print and electronic media for their unstinted support.
As a producer, I derive the greatest satisfaction when my colleagues in the film industry appreciate and support my efforts. This time also the Telugu film industry stood by me like a rock for which I'm eternally grateful.
Last but not the least, my heat felt thanks to all my cast and crew, my Co-Producers , well wishers and my family who have backed me through thick and thin. Without their faith in me, none of this would have been possible.