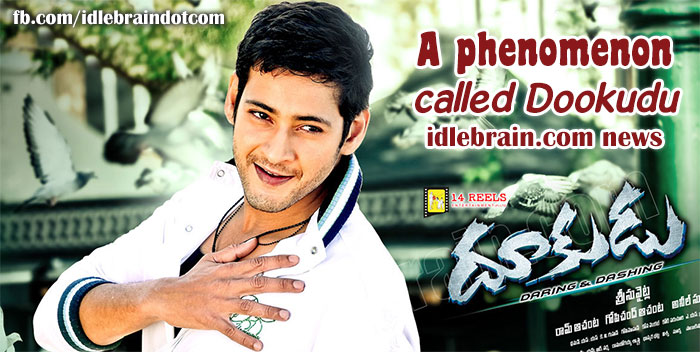 07 January 2014
Hyderabad
Magadheera film was released on July 2009 and Dookudu was released on September 2011. We did not have blockbusters in between these two films. Though there were good commercial successes (Ye Maya Chesave - 4 / 5, Maryada Ramanna 3.5 / 5, Vedam 3.5 / 5 and 100% Love 3.5 / 5) all these films are either class films or have heroes with limited box office potential. Movie lovers were eagerly waiting for a universal entertainer from big star heroes and 14 Reels banner has delivered it with the combination of Mahesh Babu and Sreenu Vaitla.
Dookudu has started off new trend in the following aspects -
It has brought the combination power which often gives highly positive results in Hollywood and Bollywood to Telugu cinema. They have selected two of the happening celebrities - Mahesh Babu and Sreenu Vytla. They didn't try to give a film of earth-shattering content. Instead, they maximized on the strength of Sreenu Vytla's ability to deliver entertainment and comedy. Classics are industry hits don't get shaped up because the makers want them to become so. Makers want to do a good film with commercial appeal and with right patronage they become industry hits and classics. Likewise, the producers intended to deliver a minimum guarantee entertainer with right ingredients and an extra attention to entertainment. Telugu audiences lapped it up with a great appetite and it has become a phenomenal hit.
Telugu film market has always been waiting to burst and Dookudu helped it. Dookudu became an instant hit both in India and USA. It has set a new record in USA by making Bollywood realise the potential of Telugu cinema. 14 Reels banner has made a conscious decision of releasing film in most of the centers on their own (Nizam, USA and few places in Andhra territory) and got benefited a lot. For example, they had an offer of 8 crores from a top Nizam distributor for Dookudu. They released it on their own and reaped the benefits as it collected much more than 2 times of what the distributor has asked for.
Since the producers of 14 Reels banner are from software field and were very successful at what they do, they tried different from what a seasoned Telugu film producer do in terms of marketing and promotion. They have also did their math well and went for a massive release which guaranteed great openings and quick collections.
1 Nenokkadine - based on the strengths of Sukumar
Just the way 14 Reels banner has banked on the comedy/entertainment strength of Sreenu Vaitla for Dookudu film, they have asked Sukumar to come up with a film that has his strength - Screenplay, that is.
1 Nenokkadine is all set to release on 10 January. Mahesh Babu is riding high on success with 3 consecutive hits (Dookudu, Businessman and SVSC). Will 1 repeat the magic? Wait till 10 January!!