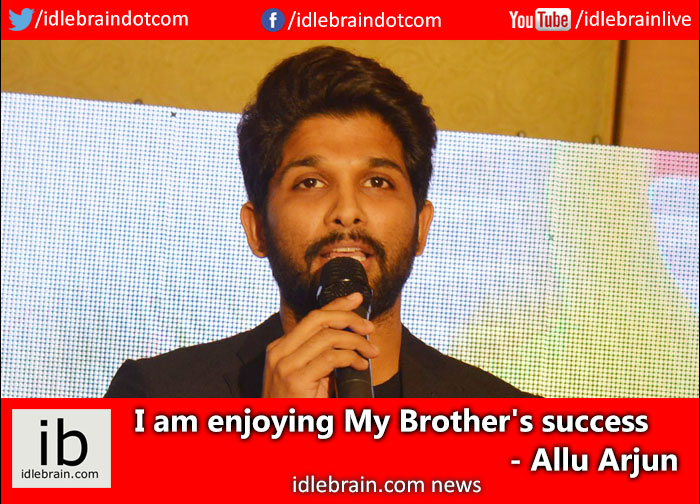 09 August 2016
Hyderabad
Allu Arjun was the chief guest for Srirastu Subhamastu's thanks giving function took place last night. "I thank one and all for making the film a hit. I could sense positive vibes from very beginning of the film. I have good knowledge in judging scripts. I had seen determination and dedication in director Parasuram when I watched him several times at our production office.
I had seen Sirish's dedication of working for late nights regularly from past one year. Firstly, the title- Srirastu Subhamastu created interest in me. Then, I felt wow when watched trailer. Finally, when I saw rushes, I had decided the movie is going to be a hit, but range was never in my mind.
Perhaps, my dad and my brother are two reasons for me to come for this function today. But, the sole reason for me coming for the eve is my brother has scored first success. My dad has seen many successes. In fact, he is the most successful person as a producer in the country.
Ali gave good support to Sirish. I used to sing one song always when I see Rao Ramesh gaaru- 'Ee Naati Ee Bandha Menatido…'. My grandfather Allu Ramalingaiah gaaru and his father Rao Gopal Rao had acted together in several films. I and Sirish are continuing the relationship which is very good thing for us.
Usually, my wife doesn't like any heroines. But, she liked Lavanaya Tripathi. That's may be, she hasn't acted with me so far. As my wife liked Lavanya's characterization, I have concluded every girl will relate this character.
I strongly believe that, a film can be successful, if and only if direction craft excels. This film was prestigious to our entire family. We felt like it is debut film for Sirish. I on behalf of my entire family thank Parasuram for taking the responsibility to provide first break for Sirish.
The way my dad worked for this film, I taught how responsible I should be with my son after 20 years," said Allu Arjun while speaking at the event.