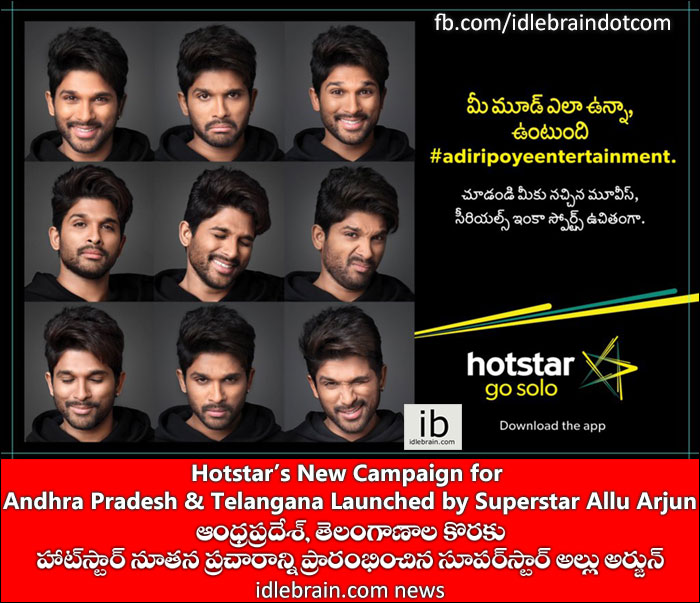 20 May 2016
Hyderabad
Andhra Pradesh/Telangana, 20th May 2016: India's largest premium streaming platform, Hotstar, which provides over 80,000 hours of world class entertainment content in 8 languages in India, is now reaching out to connect with its strong regional language audiences in Andhra Pradesh and Telangana. Hotstar, which offers more than 6,000 hours of Telugu content including a large collection of the latest and classic Telugu movies, and popular TV shows, have also announced heartthrob Allu Arjun as its new brand ambassador.
Speaking about his association with Hotstar, Allu Arjun said, "I am really excited at being the face of Hotstar in AP and Telangana because it is a streaming service that I use very often and the brand is very young and edgy. Hotstar also helps me keep track of sports scores while I am busy with my shoots. I no longer need a large television set in my vanity van, and just go to Hotstar on my phone – it is much easier to watch everything there."
K. Madhavan, Managing Director-South, Star India, said, "We are excited to announce Allu Arjun as our brand ambassador. His deep connect with the youth and his phenomenal fan base will surely help us widen Hotstar's audience in Andhra Pradesh and Telangana. Hotstar, India's biggest digital content platform, is consolidating its presence in the Andhra Pradesh and Telangana by providing a superior digital service to both the fans and the eco-system of Telugu movies and television, along with brands in general."
Ajit Mohan, CEO, Hotstar, said, "Over the last 15 months, Hotstar has established itself as the primary screen for young India. We are the only platform that showcases and curates the best of Telugu movies and TV shows, all for free to users. We are keen to showcase this extraordinary offering to two states in the country with consumers who are voracious consumers of high quality content."
The launch will be followed by a six-week multi-media campaign featuring Allu Arjun across TV, print, outdoor and digital.
Hotstar features more than 290 Telugu films and 34 TV shows in the language. Some of the popular Telugu feature films available on the platform are Kanche, Bhale Bhale Magadivoy, S/o Satyamurthy, Raju Gari Gadhi, and Baahubali. Popular TV shows include Ashta Chemma, Janaki Ramudu, Sasirekha Parinayam, and meelo evaru koteeswarudu.
Launched in February 2015, Hotstar saw the fastest launch of any new service anywhere in the world and over the last 15 months, has been downloaded more than 65 million times. It is the only premium streaming platform in the country that brings together TV shows, movies and live sports in the country for free. Hotstar has also emerged as the medium of choice for marketers and agencies across sectors looking to reach an affluent urban audience.