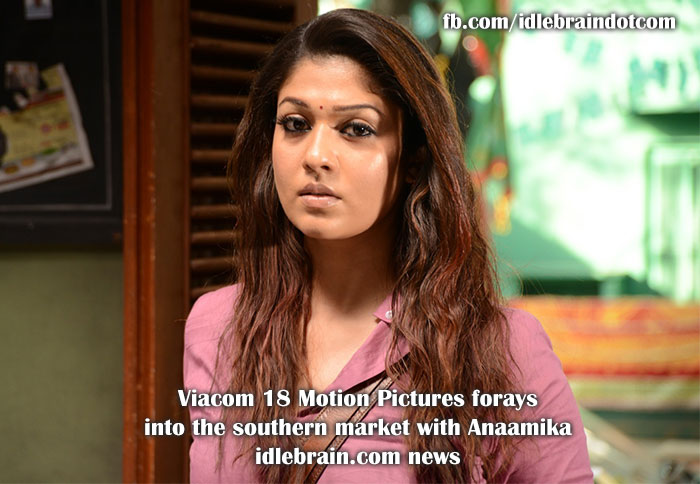 30 January 2014
Hyderabad
After successfully finding its foothold in the Hindi Film Industry, Viacom18 Motion Pictures marks its debut in the Southern Market with 'Anaamika' in association with Eyedentity Motion Pictures and Moving Pictures. The talented super star Nayantara depicts a woman's search for her missing husband that brings her from the US to Hyderabad and is aptly supported by versatile actors Vaibhav Reddy and Pasupathy. The film is directed by critically acclaimed filmmaker Sekhar Kammula which is slated for release towards February end, 2014. The thrilling plot has been captured at rarely seen real and sometimes chaotic locations in Hyderabad. The riveting screenplay has been adapted by Sekhar Kammula & Yandamoori Veerendranath, while the film's music and background score has been composed by National Award winning music director M.M Keervani.
Talking about this development, Mr. Ajit Andhare, COO Viacom18 Motion Pictures said, "As a studio, we have a full slate of Hindi and English films along with the recent Punjabi/ Marathi / Bangla productions in the regional films category. Entering the Southern market is a strategic decision that we took as it's an important regional market with a fast growing opportunity for theatrical consumption. We excel in telling stories that make for differentiated and content led cinema across markets and we are sure that Anaamika will resonate with the audience here".
Deepak Dhar MD and CEO of Endemol India added, "Eyedentity Motion Pictures aims to bring great stories, adapted and original, to Indian cinema audiences on a national and regional platform. Anaamika is a great example of a content driven, innovative story. Adapted by skilful storyteller Sekhar who has given us blockbuster hits like Happy Days and Anand, this suspense thriller will keep the tension tight with frequent volte-faces and unexpected twists that differ from the original story. The stellar performances by the ensemble cast are sure to keep the viewers on the edge of their seats."
"Anaamika is a great film shot on real locales with great production values. Sekhar's vision of the story draws out a fascinating and intricate plot, bringing depth and poise to the leading character. Nayantra portrays the lead role of Anaamika with conviction and gusto. This is going to be a movie to watch out for!" added Nitin Tej Ahuja of Moving Pictures.
Further elaborating on the movie National award winning director Sekhar Kammula, known for his high concept films, said, "Adapting a screenplay from the original is always a challenge as there are inevitable comparisons. This movie has been shot with an expansive canvas with a talented ensemble cast. The treatment of the movie has been nothing short of grand. Our effort throughout the making of Anaamika has been to make a distinctive, original thriller for the audience, as well as creating a whole new experience for this market who appreciated the original movie. I hope that we have achieved our goal."
Talking about her role in the movie Lead actress Nayantara added, "Essaying the title role in this film has been a once in a life time opportunity. Working with Sekhar and bringing his vision of the character to life has been a fulfilling experience. It's very rare for an actress to be the hero of the film which is an opportunity that I have got with Anaamika. For me the challenge has been to give Anaamika an identity of her own, and I hope that the viewer's enjoy the first look of our film."
Look out for the thrilling first look of Anaamika on www.youtube.com/viacom18telugu or at a theatre near you on 31st January, 2014.
About Viacom18 Motion Pictures
Viacom18 Motion Pictures is India's finest fully integrated motion pictures studio that has emerged as a force to reckon with by delivering a stream of critically and commercially successful films. Offering differentiated and meaningful cinema, some of its iconic releases have been Bhaag Milkha Bhaag (2013), Madras Café (2013), Special 26 (2013) and Kahaani (2012) to name a few. Viacom18 Motion Pictures is also one of the few studios to have successfully ventured into regional films across languages like Bengali, Marathi, Punjabi and in the South. The Studio has also backed path-breaking and much-appreciated creative work in the form of hits like Bombay Talkies, Gangs of Wasseypur I and II, OMG - Oh My God!, Shaitan, That Girl in Yellow Boots, Pyaar ka Punchnama, Inkaar, Saheb, Biwi Aur Gangster Returns and Boss amongst others.
The strategic alliance with Paramount Pictures to market and distribute PPI line-up in the Indian sub-continent has seen blockbusters like Transformers Dark of the Moon, Mission: ImpossibleGhost Protocol, Madagascar 3, Hugo, Paranormal Activity, G.I. Joe: Retaliation and Jack Ryan: Shadow Recruit to name a few.
About Endemol India
Endemol India is one of the leading and most valuable content production companies in India across television, film and digital content. The company is a 51:49 strategic alliance between Endemol BV- the world's largest independent television production company and CA Media – the Asian investment arm of The Chernin Group (TCG). The company has over the years produced successful television shows like Bigg Boss, Fear Factor, over 400 episodes of Deal or No Deal and The Money Drop for Sun Network amongst others. Endemol India has also forayed into the movie making business with the remake of blockbuster Kahaani in Tamil & Telugu and the Hindi version of the Malayalam hit film Traffic.
About Select Media Holdings Pvt. Ltd.
Select Media Holdings Pvt. Ltd. Is one of India's leading content companies with wide-ranging interests across media verticals including film and music IPR management across platforms, print media publishing, media research and marketing. It's film production arm, Moving Pictures, has produced and released Saheb Biwi Aur Gangster Returns, Zapatlela 2 (3D) and Bullett Raja, and has an exciting slate of films in various stages of production.