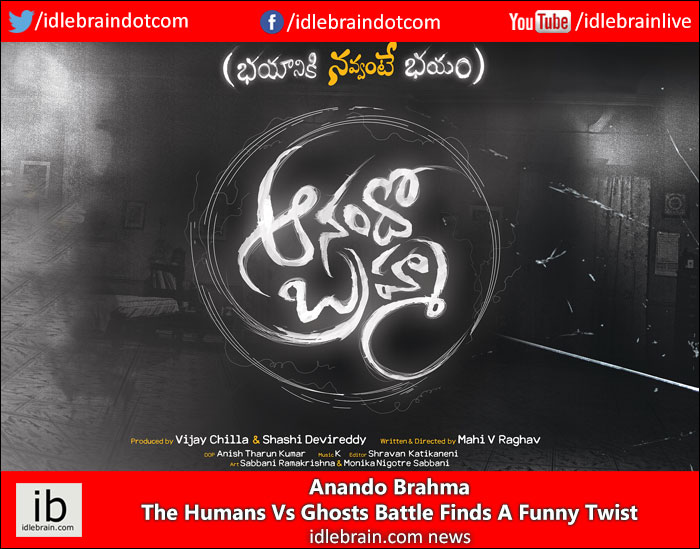 28 May 2017
Hyderabad
All 'horror comedy' films made, so far, have been based on the theme of ghosts scaring humans, but for once, here is a story where humans scare the ghosts through 'Anando Brahma'. The comedy horror film turns the genre into a laugh riot where humans win the battle against ghosts in the end. Anando Brahma is full of surprises and it explores a new dimension, of the battle between humans and ghosts, which has never been touched before.
Written and directed by Mahi V Raghav, the film stars Taapsee in a lead role, along with Srinivas Reddy, Vennala Kishore, Thagubothu Ramesh, Shakalaka Shankar and Rajeev Kanakala playing other major roles. In the past couple of years, Taapsee has carved a niche for herself with her wide array of choices, ranging from Pink to Ghazi. And she'll be seen in yet another interesting role in Anando Brahma, which will make people see her in a new light.
Produced by Vijay Chilla & Shashi Devireddy under 70mm Entertainments banner, the film is going to be a complete entertainer. The motion poster was unveiled recently by Prabhas, and the film is currently in post-production and is gearing up for release shortly. More details about 'Anando Brahma' will be revealed soon.
Produced by: Vijay Chilla & Shashi Devireddy
Banner: 70mm Entertainments
Story, Screenplay & Direction: Mahi V Raghav
Starring: Taapsee Pannu, Srinivas Reddy, Vennala Kishore, Thagubothu Ramesh, Shakalaka Shankar, Rajeev Kanakala, Posani Krishna Murali, Tanikella Bharani, Vidyullekha Raman and Prabhas Sreenu
Music: K
Cinematographer: Anish Tharun Kumar
Editor: Shravan Katikaneni
Production Design: Ramakrishna & Monica Sabbani
Sound Design: Sync Cinema
VFX: Eva Motion Studios
Genre: Comedy Horror