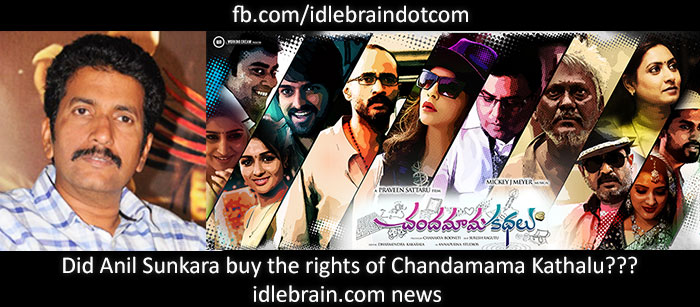 4 April 2014
Hyderabad
It is a well known fact in recent Tollywood that Chandamama Kathalu is a uniquely designed concept movie ready to hit summer screens any time soon. This film has created lot of curiosity in the film circles as well as regular movie goers with uniquely designed promotions and has reached out to remote corners of the state.
This film was supposed to be released on the 14th of March but for some reason has been postponed. Though the producers are claiming that this is a summer film and hence been postponed, the real reasons behind were unknown.
Latest grapevine in Tollywood circles is that the film was bought by Anil Sunkara, who is one of producer's of Dookudu, Nenokkadine, Legend and Aagadu. It is heard that he was the reason behind postponing CK to release in Summer. Was it also his strategy to screen the theatrical trailer of CK along with the film Legend? Well, it was a good one.
Neither production houses have confirmed this news yet. But I guess, we have to wait for the official announcement from the producers themselves. If this news is true, Chandamama kathalu will reach new heights in terms of promotions and release.
Starring in the film are Lakshmi Manchu, Senior Naresh, Amani, Krishnudu, Kannada Kishore, Rishi, Prithvi Raj, Chaitanya Krishna, Abhijeeth, shourya, Richa Panai, Shamili Soundarajan, Isha Ranganath, Vennela Kishore, Kondavalasa, inturi Vasu, Surekha Vani, Surya, Snigdha, Naveen neni and 50 more known actors