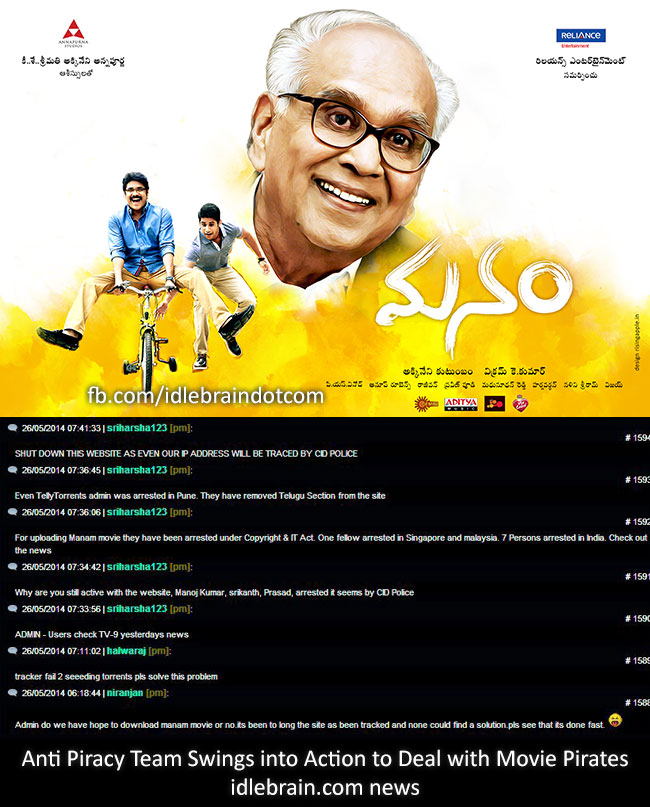 27 May 2014
Hyderabad
Imagine how much more money movies like Manam, that is drawing big crowds to theaters would make if it weren't for those meddling pirates. The industry hurt with the piracy menace has been working the Enforcement Anti Piracy Team on a war footing. Raids were conducted across several places in India to curb this growing menace with several movie pirates put behind bars already.
The Enforcement teams are closely working with Internet service Providers ISP to identify pirates IP address. They say even if you are using proxy server to escape can be traced by them. Sites that advertise that they have Manam are being watched and IP addresses of the people trying to download are being tracked.
Cyber Investigating Department CID of Police has traced 30 infringing website operators' locations, DVD suppliers. Various police teams were sent to arrest them in Hyderabad, Vijayawada, vizag, Guntur, Bangalore, Chennai, Pune, Delhi, Surat, Indore and other parts.
MANAM, Directed by Vikram K Kumar and Produced by The Akkineni Family is a pure family entertainer for all age groups and has garnered tremendous response from audience world over.
The makers of the film appeal to the internet audience to desist from piracy practices and request them to enjoy the movie in theatres near you, as it hurts movie business harshly.
In the image provided you can see people talking about the unavailability of Manam Pirated print online and how severe action is being taken across in several areas!.