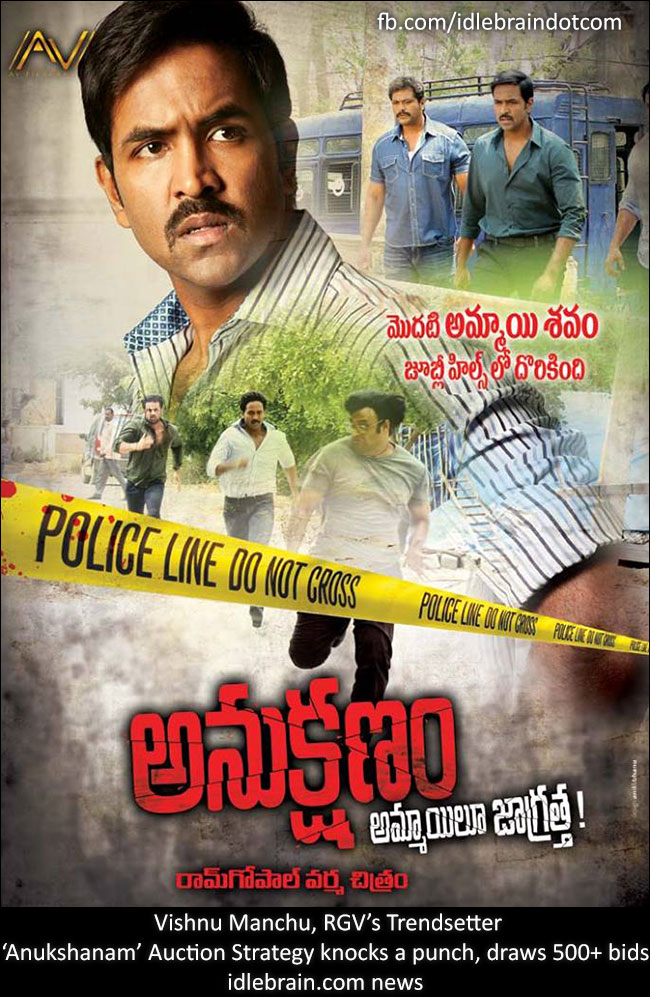 6 August 2014
Hyderabad
Anukshanam buzz is growing not just for its hard-hitting trailer and the word-of-mouth but also the way the Tollywood Hit Machine Vishnu Manchu and RGV surprised the industry and the media with a never-seen-before strategy to auction their film.
The elated duo is thrilled as it drew 500+ bids in just over few days since its online launch on August 1, 2014. The bid surprised the film makers as it beat expectations by a big margin.
Trade Experts were surprised at the response of the bid has attracted. Genereal buzz is that the movie is about a psycho thriller and the experimental film maker dares to tread into path never taken before with Anukshanam. Vishnu Manchu playing the role of DCP who leads the man hunt for the dangerous serial killer.
The film makers are confident that the audience will appreciate the movie for its approach and narration.
Anukshanam is presented by Mohan Babu Corporation and produced by AV Pictures. Madhu Shalini is playing the role of a television journalist. The movie also stars actress Revathy in an important role.
The Start-to-climax scenes in Anukshanam are packed with enough punch that the audience would just not be expecting. Besides, Vishnu Manchu and RGV combine is hopeful that their attempt to entertain will not be a letdown.
Anukshanam will surely be the movie to watch out for.