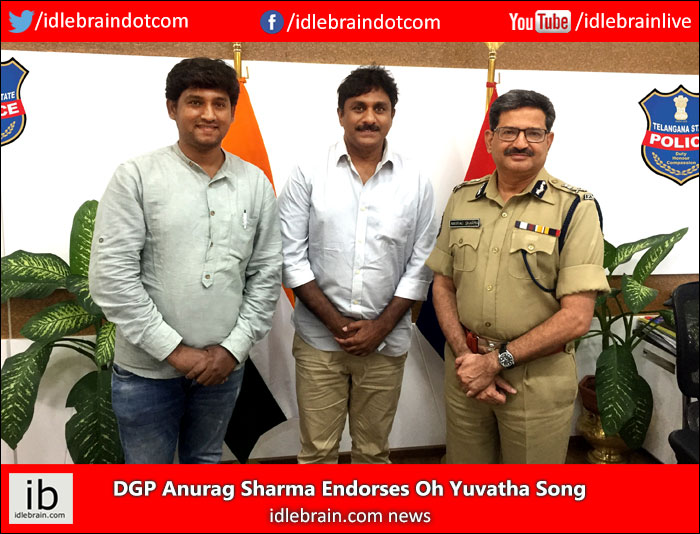 19 September 2017
Hyderabad

"Oh Yuvatha" music video, which is against the menace of drugs has achieved another milestone in applause! Telangana State Director General of Police Sri. Anurag Sharma IPS, has come to know about "Oh Yuvatha" music video and he is completely over-whelmed after watching it today.

Since, Telangana Police Department is committed to deliver the most efficient, effective and quality police service to its people... Sri. Anurag Sharma IPS, wanted to take the "Oh Yuvatha" music video, to the next level by screening it in every cinema hall, schools, colleges and social media platforms all over Telangana State!

Team thanked Janaki Sharmila (Dy. Commissioner of Police - Cyberabad) for taking this upto the DGP.

Concept and Direction: Sanjeev Reddy

Producers: Hema Bhupala, Raji Bhupala, Raaga Pushyami Kunche, Geethardh Kunche.

Initiation, Music Direction & Singer: Raghu Kunche.

Lyrics & Execution: Lakshmi Bhupala.

Cameraman: B.V. Amarnath Reddy D.F.Tech

Editor: Navin Nooli

PR Agency: Beyond Media (Phani Kandukuri, Surendra K Naidu)

CAST
Raghu Kunche, Srisudha Bhimireddy, Srikanth Kamlekar, Master K. Aadhyan Saharsh, Master K. Ayaansh Siddaharth, Arif Khan, Niklesh Kamelekar, Umakar,
Sahil Sayeed, Niharika Reddy, Dr V. Chandra Mohan, Ravi Raj.

VFX: Pradeep Pudi, D.I Colorist: Srinivas Mamidi, Song Mix: Vinay Kumar Production Controler: Srinivas Yarrakulla, Equipment Rentals: DigiPost,
Co- Director: Raj Kumar Ponugupati, Operative Cameraman: Hanumanth Rao, Poster Designer: Suresh Jai.