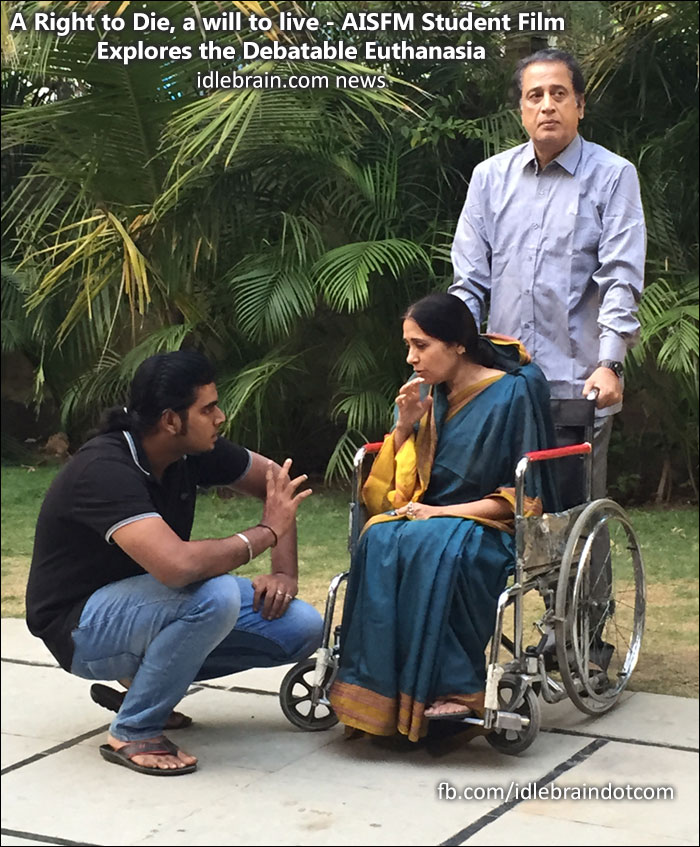 21 February 2015
Hyderabad
It is a subject that has sparked many a heated debate; a subject that finds itself the topic of legal interest in the country and world over. Euthanasia is never easy to discuss. So when AISFM student Sasindhar Pushpalingam decided to venture into this territory, the idea was to start a healthy debate. Titled Uyirmei, Sasindhar's graduation film deals with the pain, irony and agony a person goes through when contemplating euthanasia.
"The inspiration came from a personal experience. My aunt suffered from cancer for years and her husband took care of her till the day she died. Seeing her suffer made me wonder about people who didn't have the fortitude to deal with pain and agony. This sparked the idea for my short film," reveals Sasindhar.
At the heart of Sasindhar's tale are its lead protagonists. Instead of going with someone younger, the director decided to revolve the story around an old couple.
"I think the struggles of an older couple are a lot more relatable and real. They have been through a healthy and happy life, so in old age when infirmities strike, it hits them hard," explains Sasindhar.
The lead in Uyirmei is played by veteran Tamil actor Mohan Sharma and artiste Lakshmi, popular in the Tamil film and TV industry.
"Mohan sir is a writer, actor and director himself. He is from FTII, 1970 batch and knows cinema. So when I emailed him, he got back to me in 10 minutes! He loved the script and came on board immediately. Ditto with Lakshmi ma'am. She loved how mature the role was. And my story demands accomplished actors like them," explains Sasindhar.
The movie which has already been shot is in its post-production stage right now.
"I'm happy with what I have. The actors absolutely nailed the performances – it's just like how I envisioned. Right now we are in the process of editing, sound mixing and DI," Sasindhar says.
Quiz Sasindhar on what he expects from his film, and he says, "Working on the movie has been a very enriching experience. My views on euthanasia were sketchy, but once I delved into it, it made me a lot more aware. I hope my film is able to start a healthy debate on an issue that has been contentious for a long time," he signs off.
About AISFM
Annapurna International School of Film + Media is one of the finest film and media institutes in India, and strives to be one of the finest in the world. The school features the biggest names in cinema and media as teachers and academic advisors, and provides students with a highly interactive, hands-on and global approach to education. Located in the heart of India, in Hyderabad, AISFM is the first school in India to offer Bachelors and Masters Degrees in filmmaking and media, and the first major media school in the world to be integrated into a major film studio.