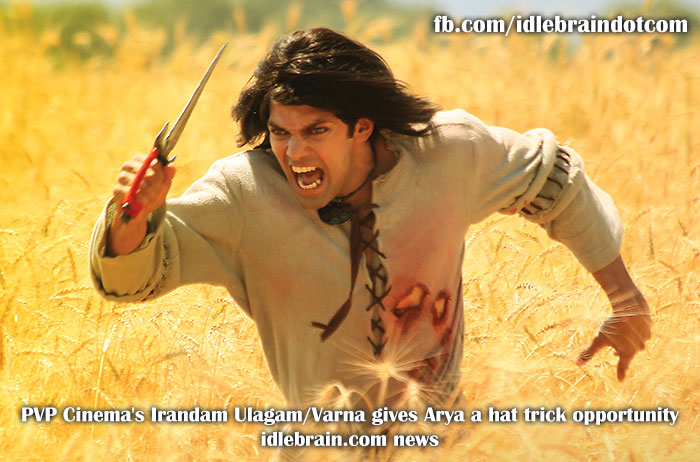 19 November 2013
Hyderabad
An actor as well as a production house is judged by the repertoire of movies they have done. It is difficult to sustain success and remain in the public memory if there is no novelty and difference in the content that is being produced. PVP Cinema believes in the popular saying that content is king and they proved this with the movies they produced like the path breaking Naan Ee (Eega in Telugu), the international standard Vishwaroopam, the mass entertainer Balupu and now coming up with a 60 crore magnum opus Irandam Ulagam and Varna that transcends global boundaries and is woven around the universal concept of love. It is a significant achievement on the part of PVP Cinema to invest such a big amount on just a hero and heroine and completely new and foreign support cast.
Arya is riding the success wave in Tamil cinema, his last two outings have been blockbusters. His boy next door charm in Raja Rani and his action oriented comic role in Arambam have drawn praise from all quarters and handed him two consecutive super hits. Irandam Ulagam/Varna is by far the biggest and most ambitious of all the projects that Arya worked in. Arya's acting talent comes to the fore in Irandam Ulagam/Varna where he had to delicately balance the soft role of a nerdy good samaritan with that of an aggressive six pack bodied warrior. Arya put in extra effort into ensuring that both the characters are distinct physically but have a seamless emotional connect. Irandam Ulagam/Varna will be a visual treat to not just the Arya fans but for everyone who loves cinema and for believers of love.
PVP Cinema's Irandam Ulagam/Varna is releasing worldwide in more than 1200 screens on the 22nd of November.