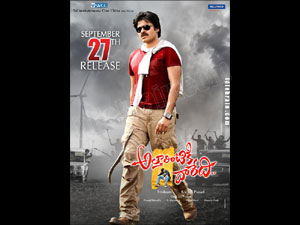 30 September 2013
Hyderabad
Disclaimer: The views expressed in this review belong solely to the reviewer who happens to be a die-hard fan of Powerstar Pawan Kalyan!
The combination of Pawan Kalyan and Trivikram Srinivas garners immense craze and interest amongst Telugu film lovers all over the world. While Pawan Kalyan symbolizes style, ease, exuberance and hysteria amongst fans, the master writer Trivikram Srinivas is an epitome of intellectual and thought provoking dialogs and slick direction. No wonder, Attarintiki Daaredi (AD) became the most awaited movies of the year. However, the movie turns out to be a Pawan Kalyan's one man show strikingly exposing a slight aberration in Trivikram Srinivas's writing/direction.
The story is about our hero reuniting his grandfather with his aunt who leaves home by marrying against the latter's wishes. Although the movie dawdles in the beginning, the pace picks up the moment Pawan Kalyan lands in Hyderabad. The biggest strength of Pawan Kalyan is his ease in front of the camera, body language, ability to coordinate his voice and facial expressions, and uninhibited dialog delivery with zero melodrama. He uses his strength to waltz through his character with gusto. After Kushi and Gabbar Singh, Attarintiki Daaredi is a "one man show" of Pawan Kalyan. Usually, in most Trivikram's movies, his genius is seen/felt in every dialog even if the movie stars a big star. But in AD, it is Pawan Kalyan who shines and overwhelmingly dominates the proceedings.
Pawan Kalyan is best when it comes to comedy. His performance as Attapur Baba and in the Indra/Ahalya drama is hilarious. He dances with a lot of exuberance in all the songs. After Toli Prema, we get to see Pawan Kalyan excel in emotional performance towards the end. Overall, Attarintiki Daaredi stands out as a movie that has brought the best out of Pawan Kalyan as a complete entertainer. It is very evident that he enjoyed every moment of the shoot.
Yesteryear's top heroine Nadia looks very graceful as the beautiful aunt of the hero. Rao Ramesh's performance whilst explaining his entire experience of suffering from a heart attack and getting rescued by Pawan Kalyan while finishing with "maa amma unte neeku gudi kattedi" was very well presented. Samantha did well in her role. Her performance in the Indra/Ahalya drama episode where she says "em swami, nadiki vellaleda" had the entire theatre in splits. Brahmanandam's radiator and bhaskar awards episode thread was very funny. Though a small role, the comedy legend entertains.
Trivikram's genius can be felt in some scenes. Although his fans will miss his usual/prasa dialogs, there is more concentration on establishing the emotional aspect of characters entwined with perfect mix of comedy and romantic sequences.
Songs (and song placement) are very good. You would not get a feeling of songs breaking the narration. However the re-recording does not leave impact like Jalsa which had the same hero/director and music director combination. The biggest minus point is the shooting of action sequences.
Overall, Attarintiki Daaredi is a movie that runs on Pawan Kalyan's performance. A must watch for all Powerstar fans and general audience.
It is all set to become one of the biggest grossers of USA. With no other big movie in the horizon and festival season right round the corner, AD will rake in big bucks at the Telugu box office making its advent into the Top #4 an (almost) inevitable phenomenon.
- Sreekanth Devarakonda.