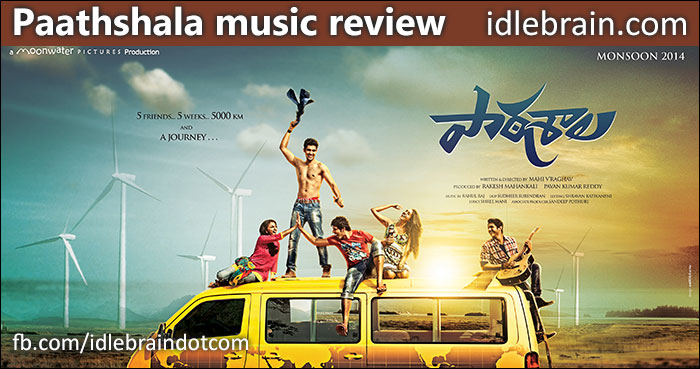 5 September 2014
Hyderabad
After producing two films, Mahi V Raghav is making his debut as director with 'Paathasala', taking a road trip and friendship theme. Music director Rahul Raj , who made sensational debut in Tollywood with 'Oh My Friend' in 2011 is making his comeback by composing music for Paathasala movie. Young talented Sree Mani contributed as single card lyricist for this movie. Here is the the postmortem of Paathasala music.
Paathasala music album opens up with 'Friendship Anthem' song and the first thing which attracts is smartly written lyrics by Sree Mani. Singer Sooraj Santhosh gave life to the lively lyrics with his voice and singer Don Raja Elvis's western touch took this friendship song to a new level altogether. Strong electronic guitar and drum beats makes this song an instant connect with the youth.
'Mersie Merise' song pops out next; it's a smooth fusion of Telugu and English lyrics by Sree Mani. Music director Rahul Raj gave his mesmerizing voice to the song and hip-hop style used in middle is cool. This is something fresh to hear in recent times. The idea of blending Indian flute with Jazz and violin with drums and guitar chords is quite offbeat and impressive. Mersie Merise is beautifully written and well composed melody song which grabs your attention in first hearing.
Third song 'Suryodhayam' hops in and the potential of lyricist Sree Mani is seen with pure thought provoking Telugu lyrics used here. Singer Najim Arshad did full justice to this melody track. After the dominating western music in first two songs, Suryodhayam had the Indian musical instruments tabla, flute giving our own flavor clubbing with guitar- drums. Sufi feel given to this song takes additional brownie points from everyone. It is a number to be listened and fallen in love with.
When we are sinking in melody's ocean, here comes the rock musical theme song in the form of 'Freedom' with youth targeted lyrics by Sree Mani. Captain of the music ship, Rahul Raj takes control of Freedom song with his vocals and it shows his essence as ROCKSTAR onstage with a gifted voice to suit the theme of the song. Energetic electronic guitar with high metal drums gives you the feel of a live rock band performing. Freedom song will click big time with party goers and at pubs, clubs because of its youth centric theme.
Paathasala music album sums up with 'Shoonyamai' song which is thoughtful with deep meaning of self discovery by lyricist Sree Mani. Voice of Nikhil Mathew sets up the mood to get immersed into the song. With edgy violin notes, finely balanced guitar, flute and organized drum corps the song gets into a spell binding effect. Shoonyamai song is a slow poison which will stay with you for a longer time.
Bottom Line – Paathasala music album is engaging and refreshing..