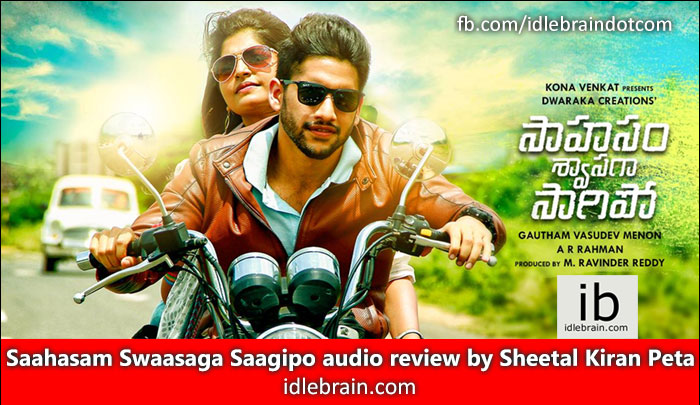 29 June 2016
Hyderabad
On a different day, in a different mindset I would have dared to call this piece an album review. But who am I lesser mortal to review God's ...err Rahman's music. With all my utter lack of technical expertise in music I am one of those who guys who ends up saying "God I felt a connection to this piece of work and welled up with emotion" or "I couldn't connect to this piece...so forgive me". What's below is a story of my connection and lack of it as I heard the songs from <i>Saahasam Swasaga Saagipo</i> for the first time today. (Those who don't have the time to read this entire piece please skip to reading what I wrote about Song 4 it might mean something to you as well.)
1. Shokilla:
Singers: Aditya Rao, ADK, Sri Raskol
Lyrics: Rakendu Mouli
<i>Shokilla</i> right from the outset sounds hip hop and I really wondered if it was the right CD I got, till something happens few seconds after the first minute. Perhaps Rahman likes to make an entry with his music too. And it took a second playing for me to understand that the song is about a bike (yeah I'm that sort of a listener). The song is filled with attitude that only hip hop or R&B numbers seem to possess. Interlaced with middle east sound and Indian drums it is an immediate foot tapper while the whole vibe of the song is international. If the Telugu words were any clearer this would have been rocking auto rickshaws & bikers headphones already. And just as one might feel that song comes to a normal end, listen to how it accelerates and what it makes you feel.
On a personal note, the percussion and the feel of the song reminded me of <i>Zariya</i> song Rahman performed on Coke Studio, though the two are chalk and cheese in terms of context, theme and setting. The track is just an example of how Rahman carries a song and fills it with necessary energy.
2. Kannula Munde:
Singers: Haricharan, Chinmayi
Lyrics: Krishna Chaitanya
<i>Kannula Munde</i> incites a sense of deja vu as it sounds similar to amazing track <i>Poolane</i> from Shanker's movie 'I'. It is no coincidence that the male singer is Haricharan or the female voice is introduced gradually here too. And just as I was beginning to feel the connection with <i>Kannula Munde</i>, I lost it as soon as I heard the words <i>naa katha baagundiley</i>. And then it needed some serious rectification – because the words were actually these – <i>naaku ade baagundiley</i>. The lines meander on the verge of being good to magical with words like <i>yeda ke kanuvinde</i> or <i>ee roju nenu mallee puttaanu</i>. Rahman keeps it extremely simple, in fact much simpler and catchy compared to <i>Poolane</i>. Krishna Chaitanya is a lyricist I have developed a personal bias for ever since Swamy Ra Ra, and perhaps he needed Sunny M R to get the final 'wow' out of the song but then <i>Kannula Munde</i> is a song that forces a clichéd line to surmise – it grows on you when you listen to it carefully (and correctly!)
3. Chakori:
Singers: Sashaa Thirupathi , Satya Prakash
Lyrics: Ananth Sriram
Marked by beautiful strumming of guitars this is a beautiful melody interspersed with violin and kanjira. Observe how Rahman accentuates Sriram's exceptional attempt to use rhyming words with the use of bass guitars and drums in the first <i>charanam</i>. Yet somehow one cannot shake the feeling that the lyrics could have been better when one hears how the words <i>anubhavam</i> and <i>avasaram</i> seem forced into the flow. On the whole a carnatic romantic number – if one can call it that and when Rahman does it, sounds all the more sweet.
4. Tanu Nenu:
Singers: Vijay Prakash
Lyrics: Ananth Sriram
And just then this happens. Listening to previous song I had a feeling that I should somehow catch hold of Anantha Sriram by his shoulders, shake him up and tell him "dude you could have done so much better". But here he delivers his killer blow and any doubts about where his head and heart was simply vanish. Sriram take a bow and show me your feet.
<i>Tanu Nenu</i> is the kind of song that -
- happens once in a decade if not more and perhaps made Ananth Sriram think "that's that now I can die happily".
- makes you fall in love with your beloved again
- makes you feel like crying and getting angry over yourself for crying over such a beautiful piece of work
- makes the world around a better place
- makes an honest person out of you whoever you are
- shakes all that is irrelevant in your body and lifts your soul to wherever it was destined to go in the first place
- shouts out and says come on Telugu people of Tyagarya and Annamaya descent wake up and the least art you could do is provide good enough words to Rahman and world peace is here in your ears and in between them
- shows what great possibilities lie ahead in the world and how stupid we are for not having the courage to reach out to them Rahman follows the song with all his love filled violins, cellos, flute, guitars and whatever godly things that constitute in his music. What magic beautiful words can do to a Rahman melody and what a great feeling when Rahman's music plays second fiddle - how often does one say that. Vijay Prakash must have thought - sometimes it's a beautiful thing to be just a tool of delivery. He doesn't do much except deliver it smoothly and the words do the magic, creating worlds of love between every line. Whatta song. My top contender for Telugu song of the 21st century so far – just saying.
5. Vellipomaakey:
Singers: A. R. Rahman, Sid Sriram, ADK, Aparna Narayan
Lyrics: Sreejo
I know that <i>Vellipomaakey</i> has been out since January / February but somehow I have been able to NOT listen to it till today. And the impact is pretty evident. Sid Sriram's voice range, Sreejo's words and Rahman's keyboards keep the intensity of distance and pain going throughout the song and perhaps even after one finishes listening to it. The surprise element here is Sreejo's ability to keep the song simple even though he uses heavier Telugu words, which would make the likes of Sirivennela Seetharama Sastry proud.
When I first heard the three songs, I thought here's another Rahman album that perhaps needed a touch more from the lyricists. And then <i>Tanu Nenu and <i>Vellipomaakey</i> made me forget my complaints and took me back to enjoying Rahman's supernatural influence over our souls. <i>Saahasam Swasaga Saagipo</i> album is a winner for me, mostly because of the two songs. However, the other three, each has a sweetness mixed with elements that will cater to those who want to get up and dance or those who want to hum along cool Rahman tracks. In the end, it won't be a surprise if you find repeating all the songs again and again, more so because 20 odd minutes of Rahman music is never enough and you keep wanting more. This is just that kind of an album.
- Sheetal Kiran Peta