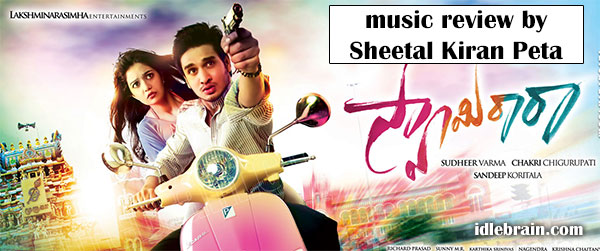 When was the last time you've heard Telugu songs felt they were very 'refreshing' and didn't want to end listening to it? After Rahman's first few albums (his genius was expected with every other album since then), it rarely happened to me with the exception of Kalusukovalani, Happy Days, Kick, Thakita Thakita, even though none of these albums were by a debutant. Now I can add Swamy Ra Ra to this list. While all the musicians I mentioned here relied on the norms set by Rahman, none of them will come close to what Sunny M.R., the music director of Swamy Ra Ra achieves here! He brings about a new sound, a new peppiness and a new energy to the otherwise formulaic Telugu film music. And here's why I say this:
Krishnudi Vaarasulantha:
"Pick Pick Pick Pocket Pick Pick" goes the chorus, like the Illayaraja and Vamshi's songs of the yore, and just then, when you think this is going to be just another song, it takes off with mind blowing mix of techno beats and accordion. And Arijit Singh's voice is just what makes this number zappy. Combine this with Krishna Chaitanya's catchy lyrics with not more than four syllables per word - this is what you look for when you listen to any newcomer's music - a spark of brilliance, a tad madness and some courage! That's exactly how this song sounds. What a start Sunny.M.R. take a bow - even if other songs fail - people will watch out for you! But he's got a partner in crime here, the lyricist - hats off gentlema(e)n Telugu words never sounded so rhythmic, romantic, funny and catchy at the same time.
Adenti Okka Saari (Neela Yevaru Leru)
Oh Sunny you beauty! Should I sing a romantic song to woo you (even though I belong to the same male species that you belong to). Mighty impressed with you mate! And that's how good this song is. Neela Yevaru Leru says the song, meaning there is no one like you - I would say yes Sunny we have never found some one like you! Soft mix of all sorts of guitars, and a blues slash country style - I dare say - there has never been a song like this, in Telugu cinema music! And for all those who complain about the western influence in Telugu music read the following:
"vela kaani vela gola... prema loni goppa leela... o bela... kopaalaa?
challa gaali chempa meeda... charya chesukundi neekai... choodantoo... nee vaipu...
leta golla kannepilla...
lotu kallu kandelaa...
kaatukaina leni vela...
nee disthi theesi lakshananga ishtapadulu paadukunta...".
Ahem what more do you want! I can go on and on...
Edu Vaadu Evado Ledu
Just when you thought the album here, has been so far mostly country style, here comes a relief, with veena (rudra veena?), but that too only for a while, and when the guitars can do what they do here, why would you complain? The music director expresses a certain sorrow and some angst with this number. Under the garb of electric guitars and drums and a little similarity to Pritam's Raabta (Siyaa Raatien) from Agent Vinod here's a song that is as cynical, as angry and as helpless a song like this can get, but in a way never heard before in Telugu.
I am so much in awe of this album here that I think eclectic mix of Rudra Veena and Electric Guitars just doesn't shock me yet!
Life Ante Pedda Chase Raa
Mix jazz with some uncharacterly blues/country themes in true Bollywood style post Amit Trivedi, and you get this kind of a song. Unbashedly celebrating the chase called life, giving it a zing with rhythmic words, this song is ironic and hence tragic at the same time. The not too cultured voice of Shefali Alvares, used so far for semi-item numbers in films like Naayak and Saleem, adds even more to the confusing emotion here. Life is a confusion - is that what the musician wants to tell us here? Yet another first for Telugu cinema, me thinks.
Yo Yo Memu Antha
Probably yet another first for Telugu cinema music (or did we have such kinds way back in 60s?) this song starts off in Broadway musical style and remains that way, with groovy techno beats. Swathi and Nikhil croon their lungs out bringing in all their enthusiasm! And if the raising tempo of the number doesn't make you catch yourself tapping feet or shaking your heads in rhythm - let me know, will give you a good ENT specialists number! (Honestly Swathi is fine, but Nikhil too... not bad though!)
Swamy Ra Ra (Reload)
Heavily mixed, engineered and loud, Swamy Ra Ra is not a remix as the name suggests, but more of a theme, banking on electric guitars, drums and all of the music director's mixing talents. The core compo reminds me more of Amit Trivedi's Ishaqzaade title track, but that's just for me I guess.
What works for me in this album - the first two songs and from there on it just is only matter of time before anyone's playing the entire album again and again. Sunny's music doesn't say that he is a genius, but speaks volumes about his control of the craft as a terrific technician who knows and trusts his ears well. Wonder how much leeway he has been extended by the film director (also another debutant)? Mind you, my fellow Telugu film followers, these are not easy compositions to convince a typical Telugu filmmaker with. Each composition expresses a different emotion, and the music director not only uses different approaches but also mixes his themes and styles well. Also let's not forget that in spite of the heavy western-ness in approach, the lyrics, by Krishna Chaitanya, are very authentic except for the peppy last song. That should ensure that the album works (hopefully) works for Telugu audiences bored with great Telugu cinema music artists reduced to formulaic repeaters.
And am sure you wont disagree that Sunny M.R., who apparently has worked with the likes of Pritam, Vishal-Shekhar of the Hindi movie industry, has made an outstanding debut in Telugu.
(And P.S. debut director, whenever I got excited about music directors - few names mentioned here, the movies bombed at box office and the one that worked, I couldn't appreciate much! I wish luck to you...)
(Sheetal Kiran Peta is a Creative Head at an upcoming advertising agency of Hyderabad, doubles as a script consultant and has reviewed dozens of films)