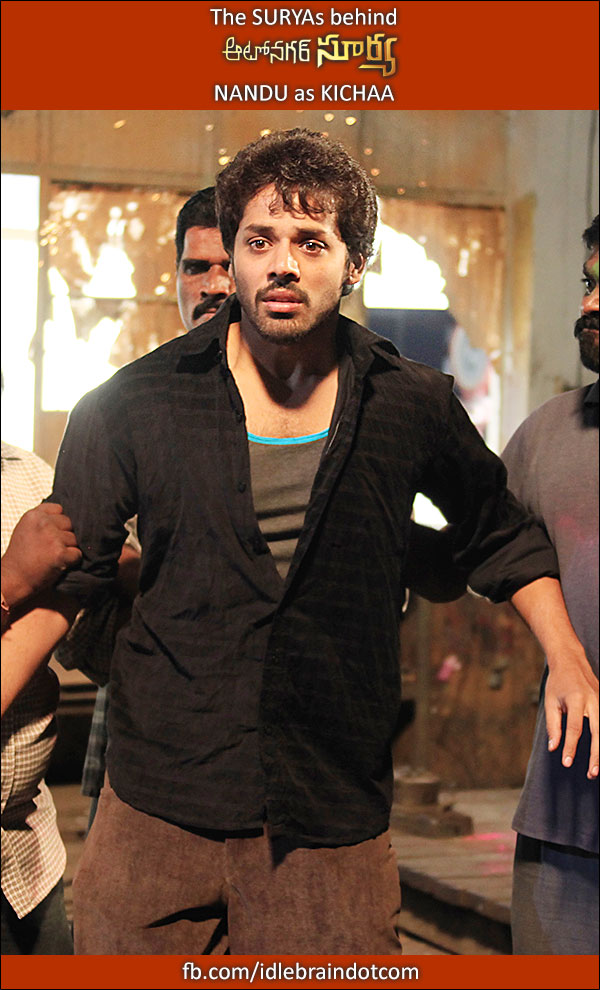 5 July 2014
Hyderabad
The SURYAs behind Auto Nagar Surya: In this series I would like to share my journey with the character artists who delivered impeccable performances in Autonagar Surya.
NANDU as KICHAA
Kichaa's character fits the description of a skeptic in story development archetypes. His moralities are flexible when compared with the other two characters (Golie and Pandu) and he needs to look more intelligent with some leadership qualities. If you cut him loose, his moral arch would lead him to become one of those shrewd villains like Corporator Indra or Mayor Kotalingam. That was the mind given to the character while developing the story. It's Surya's morality that keeps him grounded throughout the movie.
When I was looking for Kichaa. I needed someone who looks like a lead of the herd with reasonable charm. He should be convincing enough when he supports, contrasts or even questions Surya in the group. It needed a recognizable face to oppose or question Surya in order for audience to accept the conflict. I noticed Nandu in 100% love playing a recognizable character and called him up for auditions. The first thing that convinced me with him was his expressive voice and tone. It was easy to convince him as a 16 a year old for the teen episode. If you observe Nandu's dubbing in ANS he's quite expressive with his voice throughout the film. He has good rhythm to shake a leg for songs as well. Nandu's solid reflexes allow him to be spontaneous when the camera rolls. Sometimes it was very tough to manage his looks as he was busy with few other films in different looks and our schedules were totally scattered and unpredictable due to lack of funds. But he managed quite well and cooperated throughout the process.
I thank this Surya for his commitment and sacrifices. Wish him all the best to reach higher altitudes in his career.
- Deva Katta
other ANS articles by Deva:
SAMMETA GANDHI as RAGHAVAYYA
NAVIN NENI as GOLIE
AJAY GHOSH as GIRI's AID
Ajay as Giri
Madhu Singampalli as Mayor Kotalingam
The seed of Auto Nagar Surya by Deva Katta
snippet 1: anaadhane.. kaani anaamakudini kaadu
snippet 2: edagadam
snippet 3: Motor Caste.
snippet 4: Loafer Jaathi