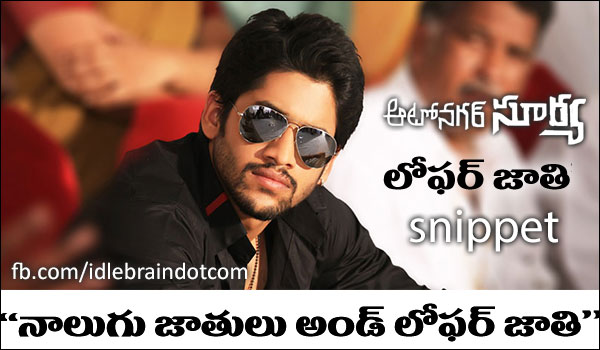 26 June 2014
Hyderabad
Extended dialogue: "naaku thelisi manushullo naaluge jaathulunnaay, thinae daanikannaa ekkuva pandimchae vaadu, kaneesam thinnantha maatram pamchae vaadu, pandhimchae capacity laeka adukku thinae vaadu...ee muggurnee dhochuku thinae naalugo jaathokatundhi...loafer jaathi"
Loafer: a person who does not work hard
Human beings can't live without a network. Historically people formed networks based on their color, region, religion, caste and other aspects. I wanted Surya to see himself belonging to everybody by means of his individual value...hence he has his own caste system based on that value system.
Initially I wrote these lines in English and couldn't translate for ease and rhythm in telugu until the fifth and final draft. It was easy to convey the point using words like 'production' and 'consumption'...but they sounded very heavy in Telugu when translated literally (uthpathi/aasvaadana etc). So chose to break the literal context and convey meaning through the mood of the scene using words like 'thinadam' and 'pandinchadam'.
A "loafer" is someone who thinks looting is his birth-right and channels all his energy towards looting other three kinds as far as the system allows. He is a perfect villain on a social context. He breeds violence.
- Deva Katta.
Also read:
The seed of Auto Nagar Surya by Deva Katta
snippet 1: anaadhane.. kaani anaamakudini kaadu
snippet 2: edagadam
snippet 3: Motor Caste