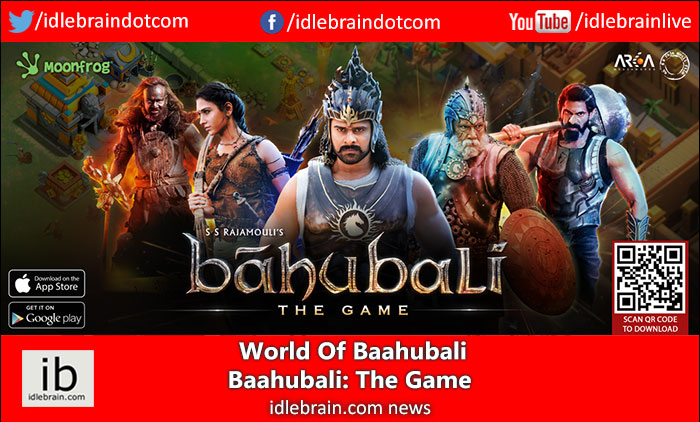 25 April 2017
Hyderabad
Arka Mediaworks, and Moonfrog Labs have come together to create "Baahubali: The Game", based on S.S. Rajamouli's World Of Baahubali.

ABOUT
Baahubali - The Game takes place in the Baahubali extended universe, where the player gets to be a part of the epic. With this game, the player gets to fight battles with the heroes, troops and defenses like seen in the Baahubali films. 
In Baahubali: The Game, the players act as Senapatis (generals or commanders) who serve the kingdom of Mahishmati and help train the army, build defenses and join forces with Baahubali, Kattappa and the other heroes of Mahishmati to push back the ruthless Kalakeya. 
The game gives the Baahubali fan a new entry point into the film's universe as a player, where s/he can experience the challenge of being a general with the command of an army.  
The game features digital versions of Baahubali, Kattappa, Bhallala Deva, and the other heroes of Mahishmati, who the players can include in their army.
The end goal of the game is to earn and win grains, gold, and gems, and build the strongest Rajya (outpost) to protect the kingdom of Mahishmati from the Kalakeyas. 

About Moonfrog Labs:
Moonfrog labs is India's fastest growing gaming company focused on making mobile games for the Indian subcontinent. The executive team has deep gaming and technology experience from companies like Zynga, Electronics Arts, Google and Microsoft.
Since its inception in 2013, Moonfrog Labs has developed several hit mobile games including 'Teen Patti Gold', 'Bingo Club', 'Smash Cricket' and 'Alia Bhatt: Star Life'.