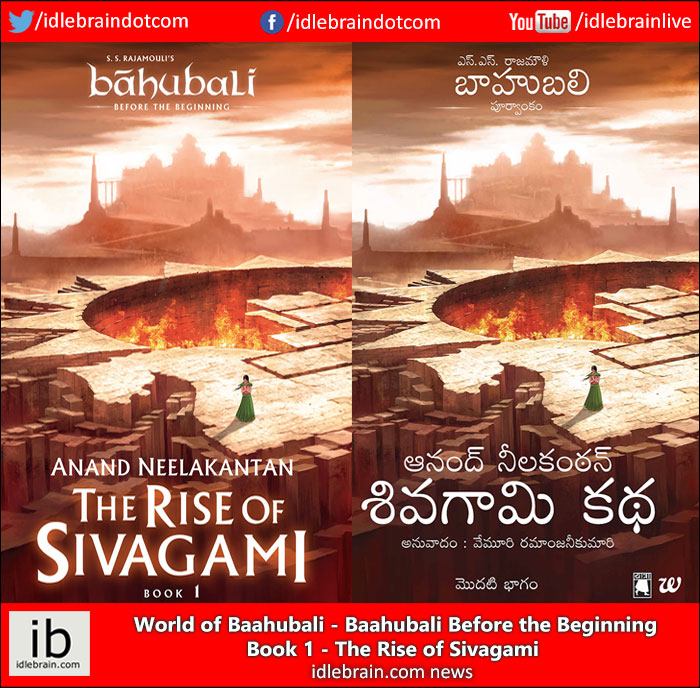 25 April 2017
Hyderabad
Arka Mediaworks in association with Westland Books and Graphic India present to you a Novel Trilogy, Baahubali - Before The Beginning, authored by Anand Neelakantan.
Built on the vision of S.S.Rajamouli, the three book series depicts the early years of Sivagami, tracing her journey to power, and the compelling bond she shares with Kattappa.
The first ​book from the novel trilogy, The Rise Of Sivagami, was launched at the Jaipur Literature Festival 2017.
The Rise Of Sivagami has been on the Amazon bestseller list for consecutive weeks in the categories of Literature & Fiction (Indian Writing), Action & Adventure, Myths, Legends & Sagas. 
BOOK 1 - THE RISE OF SIVAGAMI - SYNOPSIS
Blessed by the sacred Gauriparvat, Mahishmathi is an empire of abundance. The powerful kingdom is flourishing under its king, who enjoys the support and loyalty of his subjects, down to his lowly slaves. but is everything really as it appears, or is the empire hiding its own dirty secret?
orphaned at a young age and wrenched away from her foster family, Sivagami is waiting for the day she can avenge the death of her beloved father, cruelly branded a traitor. her enemy? none other than the king of Mahishmathi. with unflinching belief in her father's innocence, the fiery young orphan is driven to clear his name and destroy the empire of Mahishmathi against all odds.

how far can she go in her audacious journey?
About the Author:
Anand Neelakantan is arguably, the author who invented a new genre in Indian writing- the counter telling of mythology. anand's books are thought provoking and deal with logically viewing the well-known stories through a new prism. he has authored three books which are based on the Indian epics of Ramayana & Mahabharata. Anand was recently awarded with the prestigious 'literature legend award' by lit-o-fest, India's premier literature, music and art festival.
About Westland Books:
Westland Publications Ltd. is one of the largest English language trade publishing houses in India. 
It has been acquired by Amazon and the company is now a wholly-owned subsidiary of Amazon Eurasia Holdings SARL.  
Westland has consistently had a strong presence in the top 50 bestselling charts.