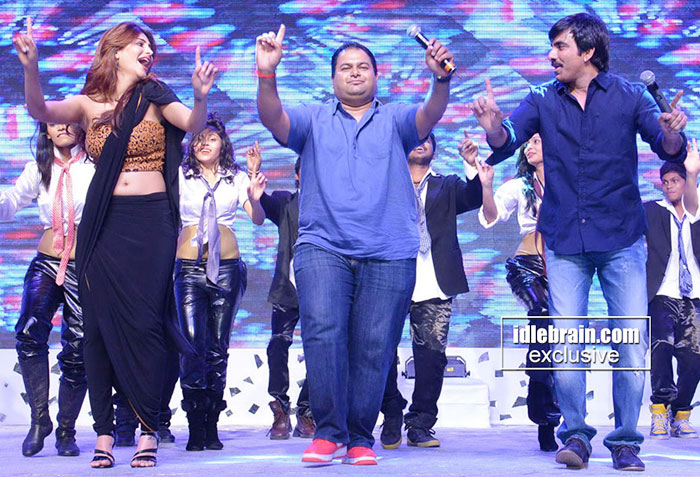 2 June 2013
Hyderabad
Balupu music launch which was held on the night of 1st June at HICC, Novotel is a huge success for it's content. The theatrical trailer containing judicious mix of entertainment, glamor and action elements has become the talk of the town and with positive blockbuster buzz created in Telugu film industry circles.
Here are the highlights of the Balupu music launch –
1. Planning commenced 60 days in advance and the team had 3 trial runs of the event
2. Event flow was conceived keeping in mind both the live audience and the TV/web audience
3. Even the stage anchors and ground anchors participated in the pre-planning in order to ensure that the compering will be high on entertainment quotient.
4. 20 members from the Bhuvaneshwar based Prince Dance Company were asked to prepare a special item of 100 years of Indian Cinema and perform it along with their internationally acclaimed, India Flag act and Dasavathar act.
5. 6 members from the Goa based Yogi's Angels prepared and performed visually spectacular laser shows incorporating both the PVP and Balupu logos. Highlight was the fleet footed dexterity exhibited by the 2 dancers from UKRaine.
6. In an unprecedented move, the entire stage backdrop was filled up with LED screens and these screens and the stunning visuals were controlled by highly acclaimed technicians from Chennai. LED screens added a lot of colour and dazzle and ensured that there was a wow factor on par with International awards nights rather than regular audio launches.
7. One of the striking features was the tribute to 100 years of Indian Cinema. This captured the attention of the audience and also took them on a nostalgic trip down the memory lane. This was a masterstroke that ensured the attention of everyone present
8. With such a significant level of effort being put in by the producers, can the main actors be left behind, No. For the first time ever Ravi Teja and Shruti Hassan performed live on stage along with S S Thaman and this elevated the event to Bollywood and Hollywood standards.
9. The mood of this event was truly captured by all the dignitaries who launched the songs and addressed the gathering, their speeches were short and sweet and laced with liberal doses of humour thereby ensuring the entertainment quotient was heightened.
Overall it was a superb evening, very well organized by PVP. The icing on the cake was the trailer which generated a huge buzz. When so much effort and planning went into the audio launch itself, we are sure that PVP has planned and executed Balupu to be a box office Bonanza. Fans and general public are eagerly awaiting the release of Balupu.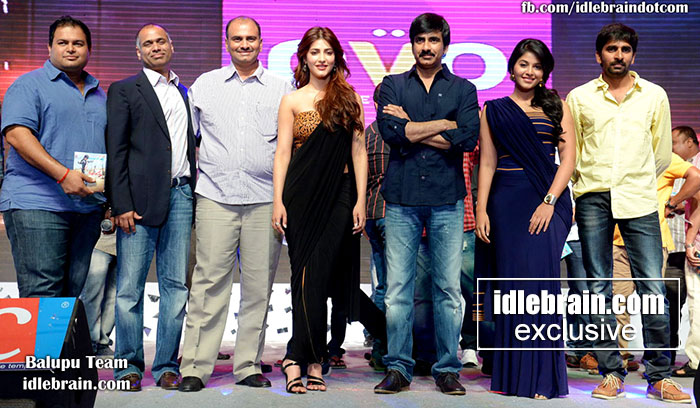 A well spent/organized 35-lac event has generated great response and TRPs – Shreyas Media
Balupu music launch is the 130th film event organized by Shreya Media. Talking to idlebrain.com, Shreyas Media management (G Srinivas Rao, SKN and Suresh) said, "When we were asked to organize the music launch of Balupu, producer PVP wanted us to go to any extent to make this event hugely successful. He wanted us to add the 100 years of Telugu cinema as a theme and wanted us to come up with a dazzling display of visuals. LED screens are the most dazzling display units and we have got the miximum number of LED displays for any of the indoor Telugu film function organized so far. We have used 'Watchout' multi-display production and playback LED system for the first time in any Telugu film function (generally this kind of technology was used for national high-profile entertainment functions like Filmfare). Initially we planned for a 40 x 20 feet stage, but PVP has asked us to increase the scale to 60 x 30 feet stage. The TV viewers prefer for infotainment (adding information to entertainment) in film events these days. Our music launch event for Nagarjuna's Shirdi Sai has got the highest TRP of 2.87 on a TV news channel (it's easy to get high TRP on entertainment channels, but not on news channels) for it's infotainment value. The producer has spent over 10 lacs for the performances from two groups who won 'India Got Talent' content on Colors TV. We get more response on TV if we have hero getting involved in music launch. Nani's participation and his anchoring of Paisa music launch has got TV audiences interested. Likewise, the first time performance of an otherwise shy hero Ravi Teja became one of the most talked about things. After organizing a movie event, we do get requests from various channels for content of film event. Our phones haven't stopped ringing since today morning as all channels want to telecast and highlight Balupu music launch. Only highly successful music launch events generate such response. We are giving an hour of music launch content away so that all TV channels can telecast it in their prime time. The cost of entire event was 35 lacs and the entire amount was well spent for to the quality of event and the craze it has generated"