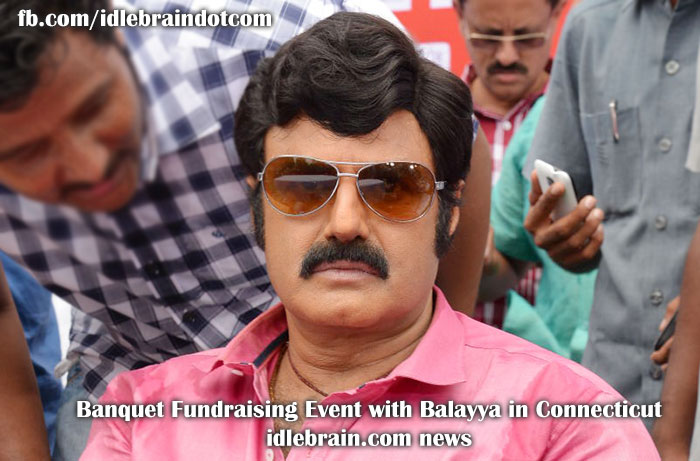 10 June 2013
Hyderabad
You are cordially invited to attend the Banquet Fundraising dinner with Sri Nandamuri Balakrishna garu for Basavatarakam Indo American Cancer Hospital
on Sunday, June - 30, 2013 @ 6:00PM

in HillsPoint Hotel & Conferences at Windsor Locks, Connecticut.

383 South Center Street
Windsor Locks, CT 06096
Donation: $500 Per Family. - includes Photograph, Memento and Dinner with Balayya

Please write the checks payable to IACO

(Indo American Cancer Organization) – Only checks are acceptable.
Please RSVP by 06/20/2013 - Limited seats available.
Please register Everyone attending in Eventbrite by 06/20/2013 @ http://ctbalayyaevent-efbevent.eventbrite.com/
Basavatarakam Indo American Cancer Hospital & Research Institute, a non-profit organization, bestows care and treatment on par with world standards of excellence available to everyone at an affordable price to prove that world class treatment and facilities are as much the right of the less privileged as it is the right of those who can afford to cross the seas for reliable and modern treatment.
Statistics have shown that the incidence of cancer in India is 160 cases for every 1 lac of people, i.e., 16 lacs of new cases every year as per the National Cancer Registry Project. This unprecedented figure exceeds all bounds of dreaded imagination and threatens to assume even more gigantic proportions if drastic measures are not promptly taken.
Professionally run by two Boards of Trustees, one based in India and one from the United States of America, this Institute has the inputs of people from different walks of life, committed to the cause of fighting Cancer by timely diagnosis and treatment.