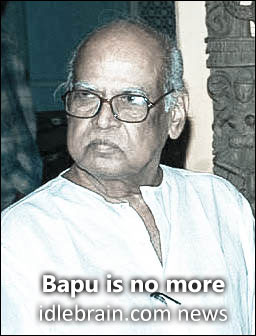 31 August 2014
Hyderabad
Legendary Telugu film director Bapu (80) passed away on 31 August at a hospital in Chennai. He was born on 15 December 1933 in Narsapur. His real name is Sattiraju Lakshmi Narayana. He started his career as political cartoonist in Andhra Patrika. His illustrations, paintings and cartoons are legendary among the literature lovers in Andhra Pradesh. His handwriting is so beautiful that there is a trademark registered Telugu font called Bapu font. Bapu has joined with his close friend Ramana, who is a great writer to form Bapu - Ramana duo and delivered great Telugu literature and blockbuster films.
He made his debut with Sakshi film starring Krishna and Vijaya Niramala. He has directed over 51 films. His last movie Sri Ramarajyam has won hearts of Telugu movie lovers. He has won Nandi awards for five films (Balaraju Katha, Andala Ramudu, Mutyala Muggu, Pelli Pustakam, Mr. Pellam and Sri Rama Rajyam). Two of his films (Muthyala Muggu and Mister Pellam) won national awards. He was granted with Padma Sri honor in the year of 2011 by Government of India.
May his soul rest in peace.