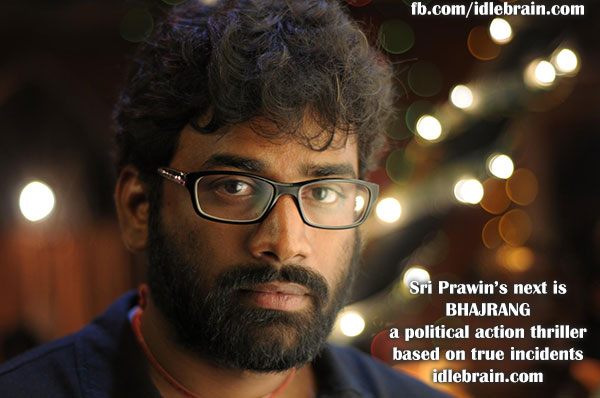 23 May 2013
Hyderabad
Sri Prawin who has finished his film 'Kaali Charan' and going to release in a couple of week has registered title for his upcoming film. The title of his next film is Bhajrang. This film is also based on true incidents and is expected to be another film with explosive content. Bhajrang is going to be a political action thriller. This film will be made on Sri Karunalayam banner which is the home banner of the director Sri Prawin.
His latest film Kaali Charan created a sensation when the trailer was banned as it's had potential to upset the harmony in Hyderabad. Kaali Charan too is an explosive film based on true incidents happened in Palamoor. This film is going for censoring tomorrow and one can expect fireworks at censor office.
Kaali Charan sports raw content and actors who appear real. The story of the film is set in the backdrop of early 1980's in Telangana. Chaitanya and Chandni play main leads. Kavita Srinivasan is seen in a raw and sexy villainess role. Bhojpuri actor Pankaj Kesri has done an intense villain role.