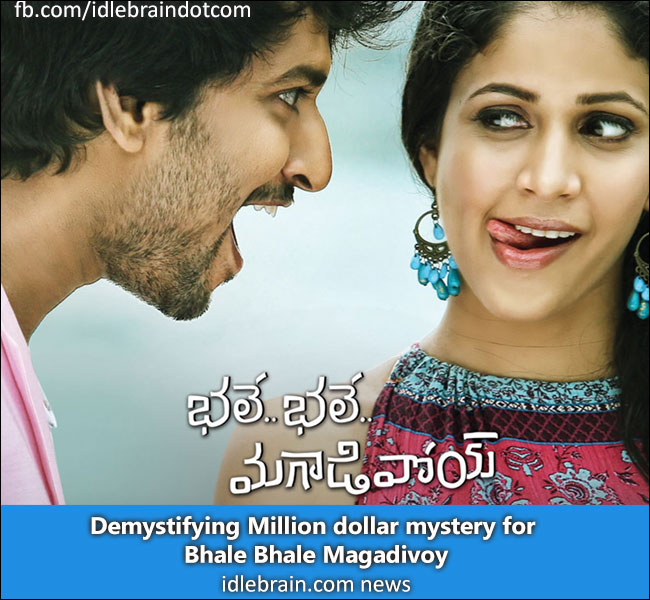 13 September 2015
Hyderabad
Nani's Eega has collected over 1 Million dollars in USA, but the credit should mostly go to Rajamouli for his vision and concept as what Nani played in the film is a small role. His follow-up film Yeto Vellipoyindi Manasu with three big names Samantha, Gowtam Menen and Ilayaraja has collected over $250k in USA. His last film Yevade Subramanyam has collected over $250k in USA though no big names were associated with it.
Why is Bhale Bhale Magadivoy has collected over a million dollars in USA? seems to be puzzling question floating in film industry circles now. An interesting fact is that BBM has collected more share in USA (Rs. 4.15 cr) than in Nizam (Rs. 3.7 cr) for the first week. Trade pundits expected this film to have $200k to $300k in total run. This movie is collecting such a number in 2nd weekend (72k for 2nd Saturday and $131k in 2nd Sunday).
During the success meet of the film, Allu Arvind has asked me why BBM is doing so well in USA. And I answered, "BBM offers theatrical experience. Laughing with entire theater is a soothing experience. People prefer watching a film of this budget in net or on TV for free cost if not for theatrical experience. BBM is a genuine effort and it's neither a pretentious nor a wannabe entertainer. At the same time, overseas audiences look for an assurance before watching a medium or small budgeted film. Superb reviews (I have rated a medium budget film 3.5 or more after a gap of 3 years) helped film get great openings. The content and positive mouth talk made sure that people keep flocking to the theaters. The long weekend due to labor holiday (Monday) helped movie to get an additional 200k in 1st weekend. Nani's increasing brand value helped the film and BBM will throw him into the league of big stars in USA. I can see Sreenu Vaitla kind of growth for Maruthi in USA if he keeps making healthy entertainers as it's humor that works big time in USA."
BBM has already crossed Eega's total run ($10,71,281). We have five Telugu films so far this year that surpassed million dollars in USA. Baahubali and Srimanthudu have unreachable numbers for BBM. Other films are Temper and Son of Sathyamurthy. BBM has crossed Temper collections ($10,52, 650) on 2nd Saturday. BBM has collected $11,67,692 by 2nd Saturday. It might cross SoS number ($12,76, 534) if the same trend continues.
A film of this budget gets a 50-60 screen release in USA, but the distributor has taken a calculated risk by releasing it in over 110 screens. The reviews and mouth talk justified the release and movie has entered the Million dollar club. There is a conscious effort by distributor to have a screen showing BBM in over 30 KM radius in most of Telugu populated areas.
Another notable feature of BBM's success is that other big budget films are priced at more than $20 and $16 for premieres and regular shows. US Distributor has priced BBM at $14 and $12. He has also applied a different strategy where pricing is $12 for shows before 6 pm and it's $14 for shows after 6 pm. This flexible pricing helped families to come in big numbers for noon shows to watch the movie. Fandango has offered $10 off for buying 3 tickets of BBM in weekend using visa checkout.
GA2 and UV Creations which are known to promote the movie aggressively have made sure that there is enough buzz is created. The theatrical trailer has guaranteed curiosity among movie lovers. Good reviews and a positive mouth talk that followed has made sure that BBM has become an unforgettable hit not just for crew members, but also for other medium budget heroes/makers to aim high to deliver an entertainer!!
Jeevi