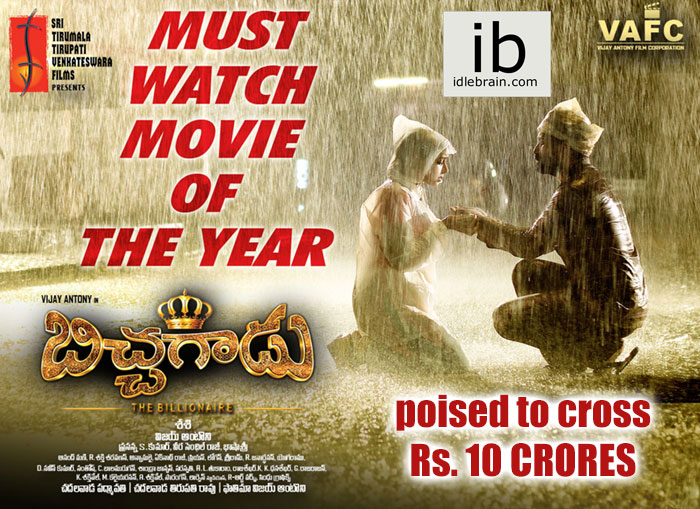 4 June 2016
Hyderabad
Tamil film Pichaikkaran which was released in March in Tamilnadu was dubbed and released in Telugu as Bichagadu on 13 May. Vijay Antony didn't have a market in Telugu as his last two films failed to click as box office. Hence the demand was low prior to the release. Sri Tirumala Tirupathi Venkateswara Films banner took the risk by investing 50 lacs for dubbing the movie and releasing it. They have promoted the film aggressively by spending over 80 lacs for publicity. It didn't get the hype as it fell between releases of two of the biggest Telugu films of summer - 24 and Brahmotsavam. However, the word of mouth became stronger and positive. Audiences started thronging to the theaters. Multiplexes refused to give any show to Bichagadu fearing lack of interest among movie lovers. Bichagadu withstood big releases and started generating revenues at steady pace. After looking at the sustained revenue at single screens, the multiplexes in Hyderabad gave shows to Bichagadu three weeks after the release.
Trade pundits are surprised at the universal acceptance for the film with such a title - Bichagadu (begger). It has collected a gross of 7,87,90,810/- by Friday (3 June 2016) and is expected to cross a gross of 10 crores in a few days. Here is the breakup of Bichagadu collections -
Nizam: 2,48,32,651
Andhra: 3,32,64,727
Ceeded: 2,06,93,432
Total: 7,87,90,810/-
Notwithstanding the title, Bichagadu is a windfall for the producers and a surprise hit of the summer.