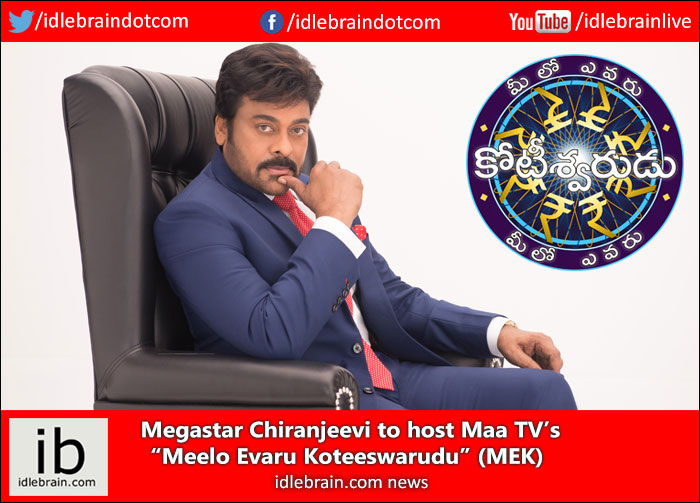 14 October 2016
Hyderabad
Maa TV, a leading Telugu General Entertainment Channel (GEC) and a part of Star TV network, is all set to launch "Meelo Evaru Koteeswarudu" (MEK) with Telugu Megastar Chiranjeevi as the host.
MEK, one of the most popular programs in the Telugu TV entertainment space, has witnessed phenomenal reach and success as the official Telugu adaptation of the internationally renowned game show format Who Wants to Be a Millionaire? and Hindi game show "Kaun Banega Crorepati" (KBC).
Being the first launch of this property post Star acquiring the Maa business,the game show is all set to become even bigger with Megastar Chiranjeevi hosting a show on the TV for the first time ever. This season the MEK theme revolves around "Making the dreams win"
"MEK is a highly popular and proven show in the Telugu market, as much as it is in various international and India markets. It is the first big show being launched after STAR TV took over MAA TV and we are pleased to be associated with mega star Chiranjeevi as the host of the show", said Kevin Vaz, South CEO of Star India Private Limited.
In an illustrious film career spanning 37 years, Chiranjeevi has amassed a huge fan following in Telugu states and he is known for his connect with the common people. The charisma and persona of Chiranjeevi, the bonding and the love he enjoys with the Telugu people is all set to take MEK show to the newer heights. This show aims to reach and empower people from 2 Telugu States (Andhra Pradesh & Telengana)
"MEK has always created great excitement among Telugu people. With this season we are all set to take MEK to the next level with multiple new things. I am sure that MEK, this season, will enthral the TV audience in both states of AP and Telangana", added Alok Jain, Business Head of Maa TV
MEK promises to bring Maa TV viewers an unparalleled opportunity to participate in the game and win cash prize of up to Rs. 1 Crore by answering questions correctly. Besides being a knowledge-based game show, MEK is the ultimate exhibition of human spirit and opportunity. MEK empowers common men to realize their big dreams by reaching the 'hot seat' and playing the game successfully with Chiranjeevi.
The Call for Entries (CFE) for the program will run from 11th October to 18th October, wherein participants throughout the Telugu states can register themselves to take part in the game show by answering questions through SMS
A multifold 360-degree media campaign will soon launch reaching every corner of the Andhra Pradesh and Telangana.
Chiranjeevi MEK Photo gallery
About MEK:
MEK is the official Telugu adaptation of the internationally renowned game show format Who Wants to Be a Millionaire? and Hindi game show "Kaun Banega Crorepati" (KBC). The show will be produced by Big Synergy.
MEK will have many surprising, fun-filled and human interest elements. The show has had its fair share of success after being adapted into various regional languages and it's a show in which knowledge can help earn big prize money. By answering each question in the money tree, any ordinary person can earn life changing money of Rs. 1 Crore. While the game show is an established format, Mega Star Chiranjeevi's presence as the host for the show will bring a lot of excitement and fun filled viewing for TV viewers.
About Maa TV:
MAA TV is a part of Star TV network, which is a wholly-owned subsidiary of global media company 21st Century Fox. MAA TV is a leading Telugu TV channel network known for its vibrant, innovative, pleasant and interactive programming.