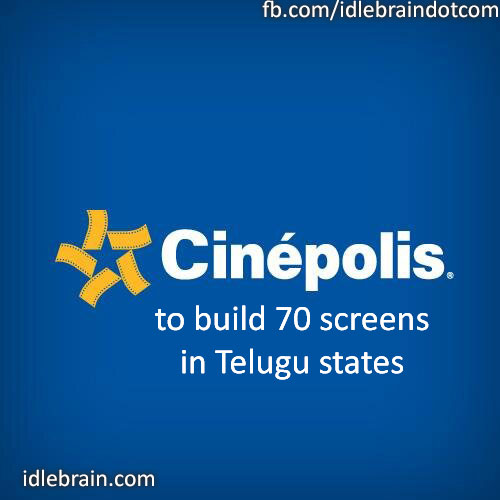 9 March 2014
Hyderabad
Cinépolis, the first international cinema exhibitor in India and fourth largest exhibition circuit in the world, has announced their aggressive expansion plans for South India. By 2017, the company will be investing more than 400 crores in opening 180 screens in southern India, including 70 screens which will be built in Andhra Pradesh and Telangana.
Speaking on Cinépolis' focus on South India on Saturday, Alejandro Ramirez Magana, CEO, Cinépolis (Global) said, "We have witnessed substantial growth in India, particularly in South India. Cinépolis Hyderabad is one of the top 10 locations of Cinépolis measured by footfalls per screen globally. It is also one of the key locations where we foresee remarkable market expansion in the year 2014, and we will be investing a significant share of our India investments here."
"Cinépolis will have close to 180 operational screens in South India by 2017." Ramirez added.
Cinépolis has 22 operational screens in South India. The company has been instrumental in augmenting the multiplex culture in Hubli and Mangalore and launched one of the first multiplexes in these cities. Cinépolis also has successful multiplexes running in Hyderabad and Bangalore.
Javier Sotomayor, Managing Director, Cinépolis India shared, "Cinépolis pioneers in introducing multiplex culture in regional India, we have launched the first multiplexes at Patna, Hubli, and Amritsar and are committed to delight the movie goers across the country with the Cinépolis experience. In 2014, we will be bringing the Cinépolis experience to Kochi and Vijaywada among 8 upcoming multiplexes."
Cinépolis is currently located in thirteen cities in India and operates 84 screens with an aggressive growth plan of having 400 screens pan India by 2017.