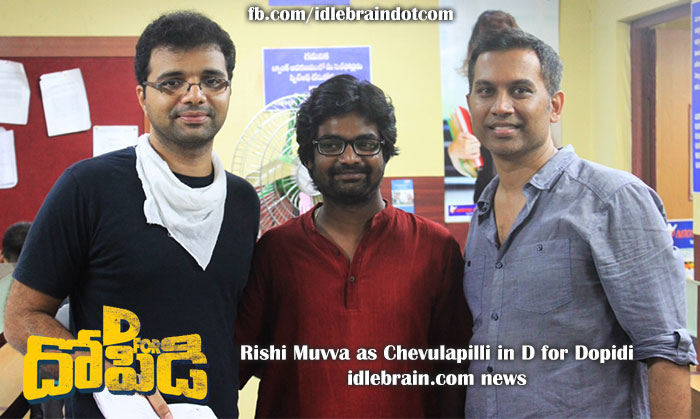 23 October 2013
Hyderabad
Jeevi's comments on Rishi's character Chevulapilli:
A drunkard is an entertainer - be it on the screen or in real life. MS Narayana started a drunkard pattern with his debut film Rukhmini (1996) and is entertaining with similar roles even after 18 years. Thagubothu Ramesh has got into limelight with Ala Modalaindi (2011) and he has been getting similar roles now.
Rishi plays the role of 'chevulapilli' - a ghost writer of Telugu blockbusters in D for Dopidi and he sees his prospective producers/actors in the four male leads of D for Dopidi. His weakness is having alcohol along with a ganja joint. His diction, body language and looks are hilarious. Though he played a role of a drunkard, he has made sure that there is his own signature in it by not imitating MS Narayana/Thagubothu Ramesh. He is one of the highlights of D for Dopidi.
About Rishi Muvva in his own words:
I have a masters degree in Developmental Sociology from Nizam college, Hyderabad. Acting is my passion since my childhood, I have done a lot of stage plays and I have recently acted in a short film by name MALUPU. To develop, write content for skits and directing them is been a hobby since my childhood. Our director Siraj Kalla gave me an opportunity to play as an auto driver in a teaser they shot before the shoot of D for Dopidi. He liked my performance and later auditioned me for Chevulapilli's character and I got selected. I have also acted in couple of movies which are yet to be released. I am currently working as an associate director and screenplay writer for Dream Chazers Production PARUGO PARUGU, starring Rajeev Salur (NOTEBOOK fame) and Manotej (BABLU fame). I have also played a role in PARUGO PARUGU.