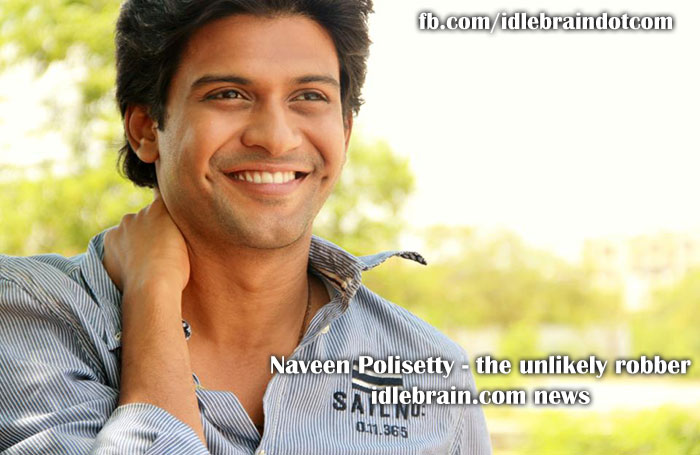 28 December 2013
Hyderabad
Naveen Polisetty - the unlikely robber
Naveen is a lanky handsome guy who looks more righteous when wearing studious eyeglasses. With Visa being rejected and having his girl's parents looking the right groom, he is forced to join the gang of amateurish robbers. He is also the reason why the film happened as he pulls the fast one with 'little Anna Hazare' act. You gotta watch this movie 'D for Fopidi'. to understand what it is!
Actor Naveen Polisetty about himself
I am primarily a professional theatre actor. I have worked in Hindi and English plays all over India. I started acting in plays at a very young age in school. If there was one thing i was clear about as a kid it was the fact that i wanted to be an actor and entertain people. I accidentally became an engineer because of parental pressure. I graduated from NIT Bhopal where i was involved in a lot of live performances. I worked for a couple of years in London in a telecom company. I didn't want to compromise on my dream so i took a risk and quit my job and came back to India to pursue my dream of becoming a full time actor. During my struggle period I won the All india first runner up in director Madhur bhandarkar's acting contest. I also won the Andhra pradesh state wide Radio city 91.1 RJ hunt. I also acted in Chetan Bhagat's play and toured with him. I auditioned for D for Dopidi even before Life is Beautiful and was thrilled to get a chance to work in a lead role with my favourite directors Raj and DK. I am currently acting in a pivotal role in Mahesh Babu's ONE Nenokkadine directed by Mr Sukumar garu. Irony is that my mom is a bank employee and I did a bank robber role in 'D for Dopidi'.