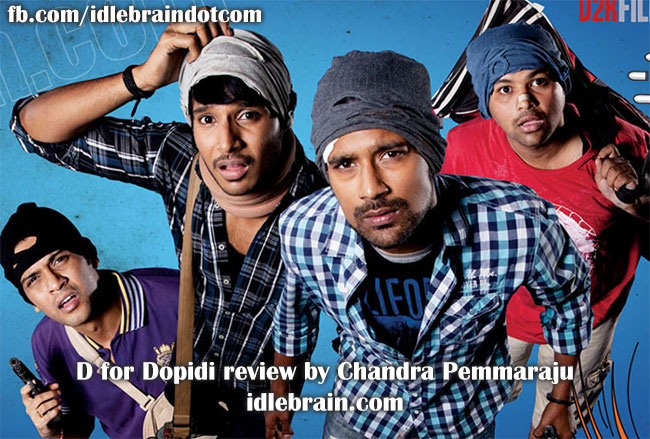 31 December 2013
Hyderabad
Walking in to the theater I had a vague idea from the crazy trailers I have seen on youtube, but wasn't very sure what to expect from D for Dopidi. The one thing that brought me there was the names of the producers associate with it. I knew I was sure I am going to be entertained. And I was !
From the moment the movie starts, till the interval bang and post-interval episodes with media, police and the cacophony inside, it is a film that purely entertains. The one thing that differentiates D for Dopidi is the screenplay, which is not the run-of-the mill commercial telugu pot-boiler. It is innovative with humor emerging from the situations due to the naivety of the characters, who do not know how to rob a bank, than a forced comedy thread. Whether it is the 4 guys who thought they could pull of a Italian Job or the 3 villagers who are foolish enough to think they can rob a bank, the characters work. There is budding romance, there is certain innocence in the film which captivates the viewer.
Also the characters, the drunken writer "chevulapilli", the cricket crazy gangster are among the others who audiences will for sure to remember after the movie too. It's a funny film, it has certain wackiness to it and it works.
The main appeal in the film is the earnest performances and the enthusiasm of the cast and the makers, which is visible through out the film. The fact that the movie did not have any songs during the run time only added to the narrative. The two back-to-back songs in the end are the added touch.
Technically the film is apt, the run time is short, ends just about the time where you may feel if it is a bit longer. Shorter is sweet works here very well. Films like Dopidi are the sign for healthy change in the way movies are being made, and hopefully more experimental films would get made. .