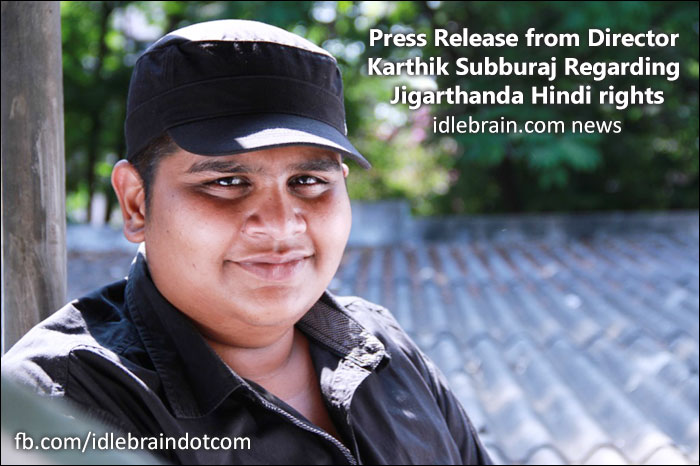 28 May 2015
Hyderabad
Karthik Subbaraj
Film Director
Dear All,
I, Karthik Subbaraj extend my heartelt thanks and grattude to the press and media for their contnuous support in all my ventures. My second feature flm, JIGARTHANDA, which is declared hit from both viewers side and critcs side. The main reason is all your positve reviews in the press and media. Today, I would bring into your atenton about a glitch in selling the remake rights of the movie by Producer Mr. S. Kathiresan. As per the contract I signed for the movie, it was assuredthat I will be given 40% of the revenue generated through selling the Hindi language remake rights. It recently came to my atenton that Mr. Kathiresan had tried to seal the deal without my knowledge.
I fled a complaint with TamilNadu Film Director's Union on this issue and through the union we conducted several meetngs with members of the Producer's Council to setle the issue amicably within four doors. unfortunately, there is no such intenton showed from Mr. S. Kathiresan to setle the issue. Atlast, As per the instructons from director's union I had to take last resort of going to our judicial system to seek justce. Following which, i fled a case in Madras High Court and now the court has issued Stay Order in selling the remake rights of the movie.The following is the note I got from my lawyer which i'm giving for the press perusal.
"Madras High Court on 21st May 2015 stayed the remake of multi-crore blockbuster hit Tamil film Jigarthanda directed and written by Director Karthik Subbaraj and starring Siddarth and Lakshmi Menon. The stay has been granted until 11th June 2015 on a petition by Karthik Subbaraj alleging violation of agreement and copyright infringement by the producer Five Star Films pvt. Ltd.
Represented by S.Kathiresan
Justce R Mahadevan granted the interim injunction on a petition by Karthik Subbaraj alleging breach of payment terms and other contractual obligations by the producer resulting in copyright violation of Karthik Subbaraj, who is the Director and Storywriter of the film.
The judge restrained the producer Five Star Films, from in any manner infringing Karthik Subbaraj's copyright in the flm, by in any manner, selling, advertsing and ofering to sell the remake rights in any language including Hindi language tll June 11. He issued notce to the producer and directed them to fle their response by then."
Once again, I express my heartelt grattude to press and request them to stand by fair view on the above issue and support me in this cause.
Thanks,
Karthik Subbaraj