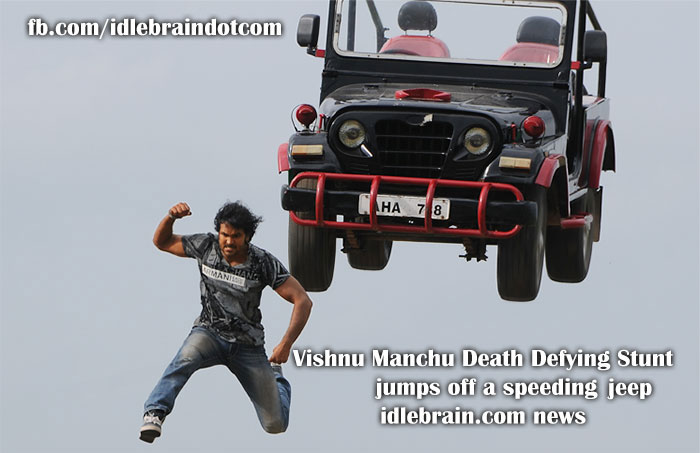 7 September 2013
Hyderabad
Vishnu Manchu turned Dare Devil again as he performed Death defying stunts on the sets of 'Doosukeltha' recently. In a fight sequence Choreographed by Thai stuntman Kecha, Vishnu jumped off a speeding Jeep which rocketed over 80 feet from the ground. The whole unit held its breath as Vishnu jumped off the jeep onto the lead villains, finishing the Shot successfully in the first take.
Thai Stuntman Kecha praised the actor for doing this stunt without a body double. As the director and action choreographer for the film, Vishnu gave me freedom to design action sequences what is best for the film. I could just pull Actor Vishnu aside if I had a new idea, and he was ready to experiment and he pulls it off the action effortlessly."
The action master has designed breathtaking action sequences, which combined lot of physical movements. Vishnu, who is also a member of the Fighters Union, is known for his daring experiments in action sequences.
Vishnu is currently shooting climax scene for 'Doosukeltha' directed by Veeru Potla with Lavanya Tripathi as the lead actress.