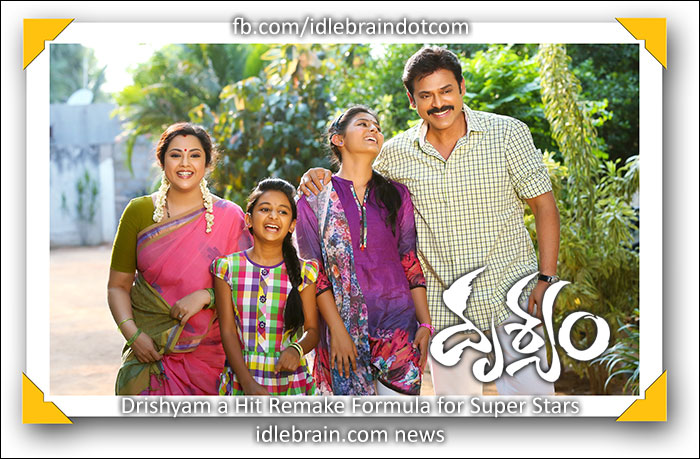 5 July 2014
Hyderabad
Each year, movies are remade and sequels are added to films that proved to be successful. This year is no exception.
The upcoming release of hit duo Victory Venkatesh and Meena Starrer "Drishyam," a remake of the Malayalam super hit film is the latest remake film. After the Kannada remake garnered good response, the Telugu remake is all set to woo the Telugu audience to theatres.
Suresh Babu of Suresh Productions stated "The movie is an absolute family-thriller, with a strong family protectionist message played by Venkatesh as a simple next door cable operator superbly supported by Meena who plays his wife."
This film is a lot of family fun, with a spirited performance from all the star cast led by Rambabu (played by Venkatesh) and his well-knit family.
The hit Malayalam film brought super star Mohanlal fans to huge jubilation which still continues to rake big moolah at the Box Office; it is the turn of Super Star Venkatesh and Kamal Hassan to give their fans loads of entertainment and fun in theatres. Kannada star Ravichandran got rave reviews for his performance in the Kannada remake that hit the screens already.
"It's a movie that instantly connects to common man" Victory Venkatesh says. The entire cast and crew of the film have given their super best shot and we are optimistic that it will be loved by the Telugu audience world over.
Venkatesh's Drishyam will come to theatres near you in July. Directed by Sripriya the movie is produced by Suresh Productions and Rajkumar Theaters..