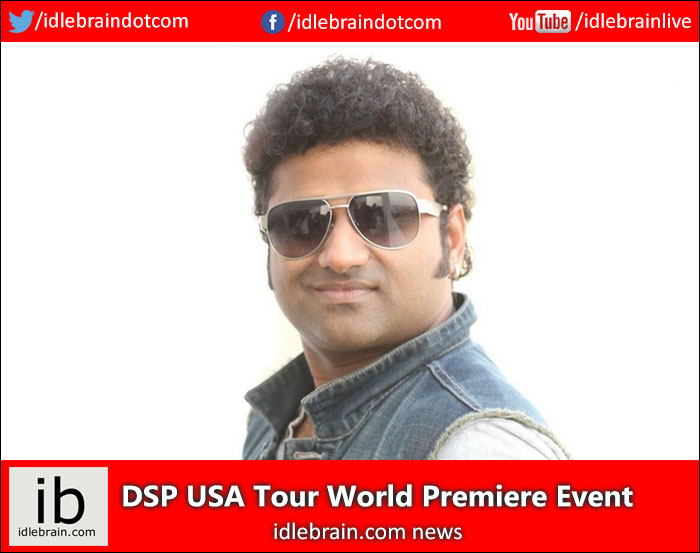 03 August 2016
Hyderabad
Music gives a soul to the universe, wings to the mind, flight to the imagination and life to everything. Zee Telugu presents a unique, first of its kind and prestigious event "DSP USA Tour World Premiere Event".
Devi Sri Prasad who is popularly known as Rockstar DSP is one of the finest music directors of not only the Telugu film industry but also the entire south Indian industry who is also churned out blockbusters in the North. Known for his high energetic stage performances, DSP has been performing all across the globe and continuously winning the hearts of the music lovers. Zee Telugu wishes the Rockstar a very happy birthday.
"DSP USA Tour World Premiere Event" is a mega event which celebrates the music in DSP through different stage performances in US. This mega event brings forward the never before Indian shows in USA in the cities New Jersey, Atlanta, San Jose, Chicago, Dallas and Washington Dc and will start with the first ever theatrical premiere of a live music and dance show in 'dolby atmos' at Prasad's Imax on 6th August at 7pm. The premiere will also be attended by the top heroes, heroines, cinematographers, singers, lyricists, producers and directors.
The event also provides an opportunity for the fans to meet their favorite music director. Lucky fans are selected from the contest on Konchem Touch lo Unte Chepta - Super Sunday show.
This grand 'DSP USA Tour World Premiere Event' will be telecasted on all Zee Platforms in due course.