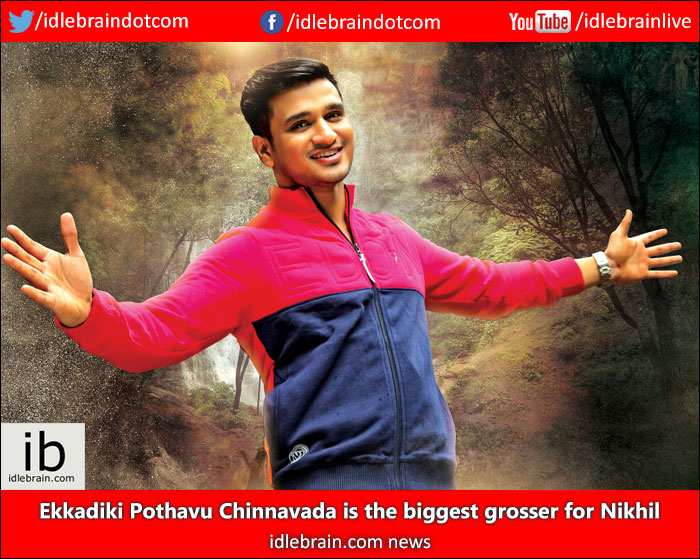 20 November 2016
Hyderabad
Nikhil who got noticed for his hyper character in Happy Days has done a couple of decent commercial films (Yuvatha & Veedu Theda) later. But most of the other films were bad choices. He realised about it and made a firm decision to do only strong-content films.
Strong content films
Swamy Ra Ra is the first film that is released after his transformation. This film which is made in a stylish way was a runaway hit. He followed it with another strong content film 'Karthikeya'. This film too set the cash registers ringing. His next film was Surya Vs Surya which has an unique story. It managed to become a safe project. After doing three content-oriented films, Nikhil tried his hand again with commercial film by doing Sankarabharanam which failed at box office. He made sure that he learnt his lesson and concentrated on content again. The result is Ekkadiki Pothavu Chinnavada.
Defies the effect of demonitization in Telugu states
Laced with nice comedy and good screenplay, Ekkadiki Potaavu Chinnavada has generated instant hit talk. The collections started increasing from show to day by fighting the demonitization effect and dull season. The collections are growing from day by day. And this movie is getting houseful in towns as well as cities.
Crosses Nikhil's previous highest grosser by Saturday in USA
Ekkadiki Potaavu Chinnavada is all set to become the biggest grosser in the career of Nikhil. Nikhil has $200k collections for his previous two hits - Swamy Ra Ra and Karthikeya in USA. This film has surpassed that figure on Saturday. This film has collected $282,207 by first Saturday in USA. The USA distributor and exhibitors are already in profits as this film is sold at a very reasonable price.
Let us hope that Nikhil will continue to choose content-oriented scripts and enhance his brand value further in the days to come!