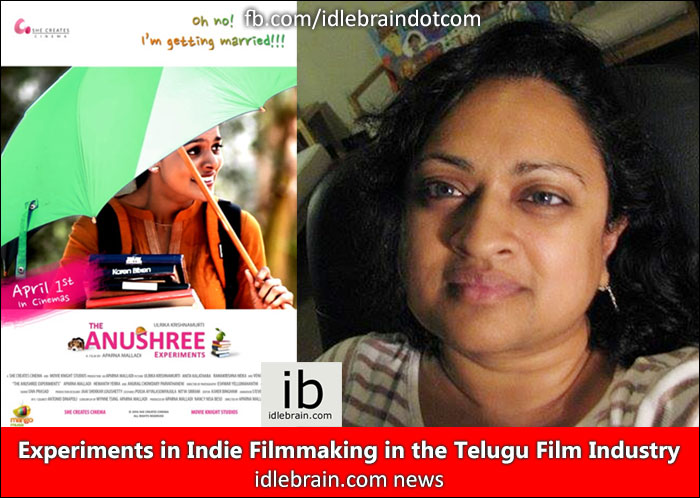 31 March 2016
Hyderabad
All life is an Experiment. The more Experiments you make the better ~ Ralph Waldo Emerson
Every film is an experiment. Each with it's own unexpected outcomes. The Anushree Experiments was even more so since it had the word 'Experiments' in the title itself.
I am an independent filmmaker in every sense of the word. My films are based on independent ideas, are self financed & self distributed and even tough I use resources from the film industry, I work in a space outside of the so called 'system'.
I did not ask to be an independent filmmaker. It was what was available to be and I chose it powerfully and the rewards have been great indeed.
Independent filmmaking however comes with a cost and it is rife with obstacles and limitations which perhaps would not even be part of a so called 'commercial' filmmaker's vocabulary.
I came to Hyderabad in 2009 when my first feature film 'Mitsein' was invited to screen at the Mumbai International Film Festival [MAMI]. My plan was to stay for a year, shoot my next feature 'The Anushree Experiments' which was set in Hyderabad and go back to Los Angeles to finish it and that that would be the end of it.
What ensued has been an adventure of a lifetime and I will take this opportunity to share some parts of it with you. I will enumerate what one can expect when one want to make an independent film in an industry that has no space for it. The barrier of entry into the Telugu Film Industry is high.
Financing
Getting financing for independent films in the Telugu film industry is very tough because even investors who want to invest in low budget movies want to make a commercial movie with all it elements, just on a smaller scale. Moreover, I was pitching a light comedy with a female protagonist which almost had no takers. Even educated investors wanted to play in the commercial arena because that the only way they could have a pay point. I approached the usual studio suspects in town and I quickly realized that there was only 'one' game in town and that I will have to self finance my film.
Production
I made have two films in San Francisco and I did post production in Los Angeles for both those films. Even as a novice I could get things done with ease. The system there was pretty organized and powers that be in town were very supportive and helpful. I got a lot of discounts and soft support. Coming to Hyderabad, I realized that even though some systems are in place, the process is not very evident. Lot of black boxes and vague information was floating around. I think this is because there is always someone trying to make a living by keeping the process ambiguous. Even though I understand and respect that, it still does not make it any easier. I was at a loss as to how to even get a location permit not to mention how to know where all the available locations were.
A phone call from Dr. Paruchuri Gopala Krishna Garu gave me a breakthrough. He invited me to teach screenplay and cinematic language at Potti Sreeramulu Telugu University. I have to give him the sole credit of introducing me to my assistant directors – The students at Telugu University are my dream team and they have loved me and carried me this long and continue to do so. I call them my 'Movie Knight' because they are my true gallant knights in shining armor. Being local boys with lots of street smarts and chutzpah, they navigated this ambiguous film production process in the industry and delivered my vision.
Post Production
Since I was self financing the film, I had just enough money to shoot the film and get it in the can. I had to go back to the US and plug back into my old job at a company called Phenomenex to make money for my post production. The CEO of Phenomenex has seen me quit and rejoin his firm almost a half dozen times now and it still amazes me that every time I go to him he welcomes me with open arms. He believes in my dream and has been a constant stand for which I feel extremely lucky.
My post-production was fairly smooth because Los Angeles is very competitive and has great talent from all over the world. I was not surprised to get a great Editor, Composer, Colorist & VFX artist who kept the quality of the post-production conversation quiet high. They upgraded the filmmaker in me.
I traveled back to Hyderabad a couple of time not withstanding the costs for dubbing [Since all my actors were in Hyderabad] and finally for sound mixing. Los Angeles was prohibitively expensive when it came to getting a 5.1 mix [Which I absolutely needed for a theatrical release] so I decided to do it in Hyderabad. I had some pitfalls when it came to sound. I had to stumble through a few studios with bad sound before I finally found a good team at Blue Bird Studios which works out of Mr. RP Patnaik's mixing studio. The stumbling through cost me a lot of time and some money but I did get through it.
Distribution
Since I did not have the money and inclination to pay money to middle men, my censor certification took almost 3-4 months and I am afraid to even tally the number of trips and countless mind numbing hours I have wasted waiting in the hallways of the CBFC to finally get a clean 'U' certification of the film. My film was now ready for release.
At my recent press meet at Film Chamber in Filmnagar I jokingly told Mr. Vijayendra Prasad Garu and Dr. Golapakrishna Garu that I have decided to add one more craft to the 24 crafts of filmmaking and that is 'Begging'.
I have spent the last few weeks begging for theaters to release my film. It has been and continues even now to be a soul sucking and gut wrenching process that I cannot fully elaborate. After 5 years of crossing the Sahara desert to make your film, it all comes down to one man who holds the power to give you one theater in Hyderabad so you can legitimize your film and all the people who have worked it. It came down to one such moment for me - when a 'Yes' or a 'No' would make all the difference to half a decade's worth of effort. I still can't believe I was witness to such a moment and I don't even want to think what would have happened had I gotten 'No' as the answer. Boy, it took all of me and then some to keep my word to myself and my crew in this town.
In all honesty, I do have to say that there are some very supportive people in the Telugu Film Industry who I would tag as the 'Nobles'- people who uphold the values, quality and ethos of the film community. They are watching, they work in invisible ways and can be counted on for support. I have been fortunate to be impacted them.
Most of the problems that show up in indie filmmaking are because one is trying to save a buck. One can't just throw money at problems to fix it like in big budget films. So everything becomes a life or death negotiation for a film. It took me one year to write and develop the screenplay and almost 4 years to make 'The Anushree Experiments'. As they say – Time, Money and Quality – You can only pick two. I had no money and I wanted quality so I had to expend 'Time'. Time was the currency I used to make the film.
I stand now in a place where I feel I have done all I could do to the best of my ability with all the resources I could humanly manage to scrounge up. Now there is nothing more to be done and nothing more to be said but to give the film away to my community so that they can see a small facet of themselves in my story. It's 'your' film now.