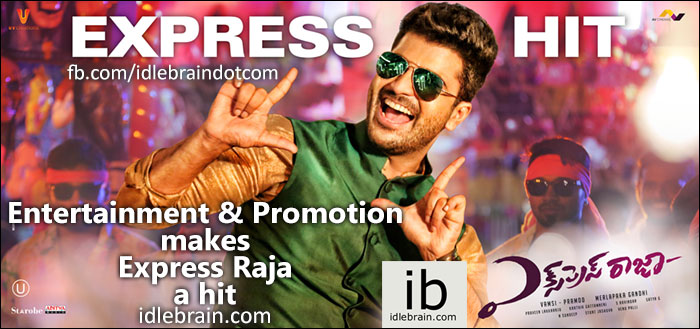 19 January 2016
Hyderabad
Releasing Express Raja along with 3 star heroes films is considered a suicidal attempt by UV creations. Since producers Vamsi and Pramod come from a distribution background and has a strong distribution network (by aligning with Dil Raju in Nizam), they have managed to get decent number of theaters for an over-crowded Sankranthi season.
Express Raja has managed to a get a good talk and is getting good collections. This film is released in around 180 theaters in Andhra Pradesh and Telangana. And collected a gross of 9 crores worldwide so far. Express Raja has crossed a share of 2 crores in Nizam by the afternoon of 19 Jan. This film is made on a budget of 7 crores (including publicity).
This film was not released in Karnataka and Tamil Nadu due to lack of theaters and it will release on 22 Jan. The theaters count in AP and Telangana will be increased by 50 from 22 Jan. Hence, there will be additional revenue from fresh territories in the 2nd week.
Express Raja was released in 70 screens in USA and collected a decent amount of $285k so far and it's expected to do well in the coming weekend too.
The satellite rights of Express Raja were not sold before release as the offer is usually low for small-budgeted films. Likewise, Run Raja Run was sold for 4 crores after it generated hit talk. Since this film has generated hit talk, Express Raja is going to get a good price for satellite rights.
Two of the main reasons for the success of Express Raja are entertainment and promotion. UV Creations have spent over 1 crore (almost 17% of the budget) for promoting the movie.