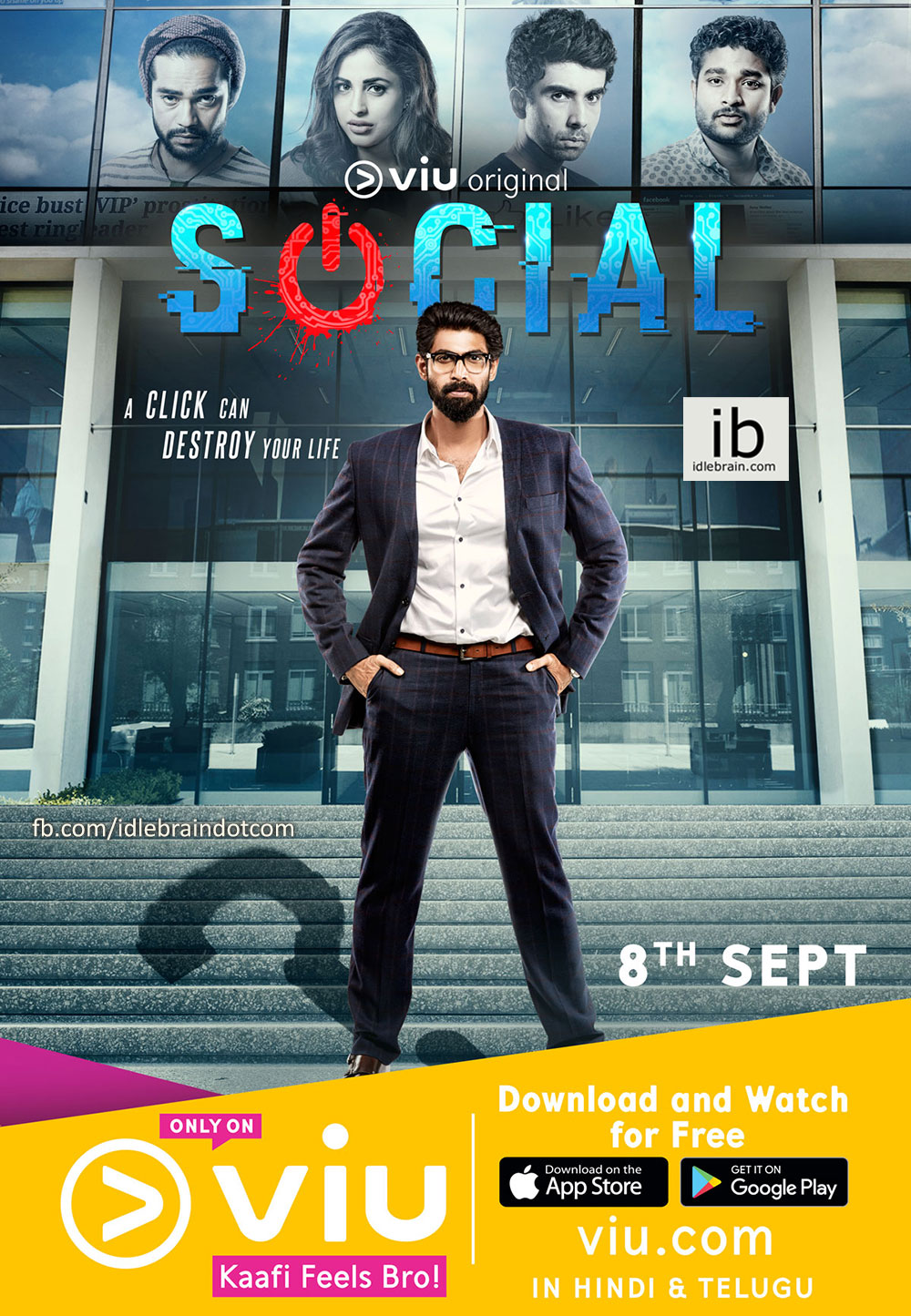 2 September 2017
Hyderabad
Viu has released the poster featuring the debonair Rana Daggubati illustrating the question whether social media is a boon or a bane
Produced by Whacked Out Media and Guru Films, set in Hyderabad, the 13 episode series is a story about four diverse individuals who come together to solve the mystery of a missing girl
This bilingual fiction digital series is being shot in Hindi and Telugu simultaneously
Directed by Shashi Sudigala, the 13 episode original series will see Rana Daggubati of Baahubali fame along with digital phenomenon Naveen Kasturia, who will be playing the protagonist
Bollywood actor Priya Banerjee will be seen in the role of an aspiring actress in the show
Actors Aradhana Uppal, Abdul Razzaq, Moin Khan and Preeti Asrani will also essay crucial roles in the series
Hyderabad, September 1st 2017: As the launch date of Rana Daggubati's social media thriller comes closer, fans can rejoice the release of the new poster of 'Social'. Raising a lot of expectations, Viu has released the poster featuring the debonair Rana Daggubati illustrating the question whether social media is a boon or a bane. The captivating reveal poster inspires the narrative of how a single click in the digital world can change a life. 
Produced by Whacked Out Media and Guru Films, set in Hyderabad, the 13 episode series is a story about four diverse individuals who come together to solve the mystery of a missing girl. The show is based on the theme of social media and hopes to make people aware of the reality of cyber crimes and how internet also becomes the saviour. Opening many layers of mystery and thrill, the much awaited series is slated to launch on 8th September.
Directed by Shashi Sudigala, the 13 episode original series will see Rana Daggubati of Baahubali fame along with digital phenomenon Naveen Kasturia, who will be playing the protagonist. Bollywood actor Priya Banerjee will be seen in the role of an aspiring actress in the show. Actors Aradhana Uppal, Abdul Razzaq, Moin Khan and Preeti Asrani will also essay crucial roles in the series. 

Presented by Rana Daggubati, this bilingual fiction digital series is being shot in Hindi and Telugu simultaneously. Speaking on the show, the ace actor says, 
​​​​
"This is my first digital fiction and I strongly feel that with 'Social' we are offering some exciting yet relevant content to our viewers. It is a story that will connect with the digital-first audience and as an actor I am glad to be experimenting with different genres and platforms. Today, social media is a big part of our lives and with this show we are portraying the need to be aware of the reality and consequences of our actions in the digital world."

Naveen Kasturia, who essays the role of the brother of the girl who goes missing, said, "'Social' is a riveting show that explores the prevalence of social media and cyber crimes. This show is carefully created for the digital medium ensuring a captivating storyline for the audience who are open to viewing differentiated content. Working with Rana and Priya has been very exciting as well. While shooting we keep improvising a lot and try to keep the process a bit more dynamic."
Speaking on the show, Bengali beauty Priya Banerjee says, "Digital platforms have a strong impact with their content on millennials and I am excited to make my debut with 'Social'. I am playing an aspiring actress who knows what she wants in life and has what one needs to make it into the limelight. I really liked the script as it brings together experimental content portraying the many aspects of social media with a fascinating viewing experience."