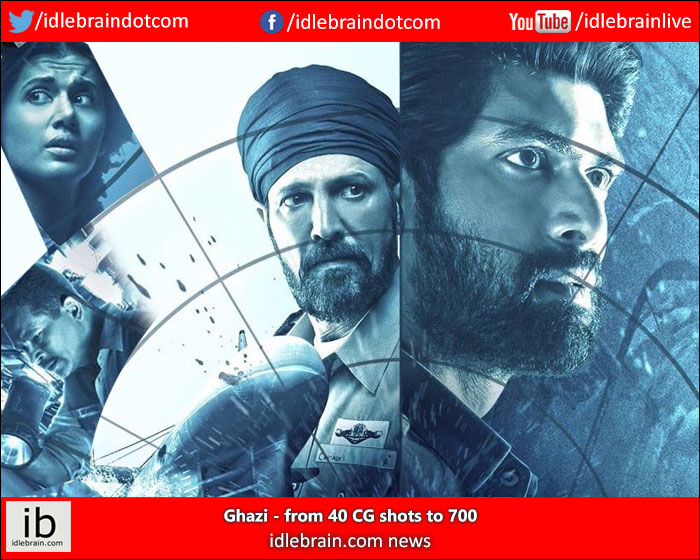 13 February 2017
Hyderabad
After Baahubali, Ghazi is the next technically high standard CG oriented film upgrading the Indian cinema standards. Scripted on strong patriotic 1971 India-Pakistan war content, Ghazi runs primarily underwater testing the technical strength of a rather young production and post production team.
"There is no Ghazi without CG. Indian audience never experienced complete underwater war atmosphere before. It took 2 years for us to complete R and D on it before finalizing production.
Challenge was to match International standards shaping a perfect look and authentic ocean flavor for Ghazi. For this we created a 3D environment in CG matching all underwater dynamics," said Ghazi VFX designer Vasudev.
"During the Ghazi beginning stages, we allocated only 40 CG shots due to various constraints which included 30 underwater. When big names of PVP and Niranjan Reddy added to our team, our scope of work and heights of freedom changed. Ghazi final version to be screened from 17th of this month will have 700 CG shots," Vasudev further adds.
"I am in CG field from last 7 years. I worked earlier with creation of water in Gundello Godaari. Watching this film, director Sankalp approached me and explained the actual concept which began our real journey. Great coincidence is, Sankalp also happens to be my childhood schoolmate that we realized in our first meeting," Vasudev shared a feel good emotional moment attached with Ghazi.
Starring Rana, Tapsee, Atul Kulkarni, Kay Kay Menon and others, Ghazi is hitting the screens on February 17.