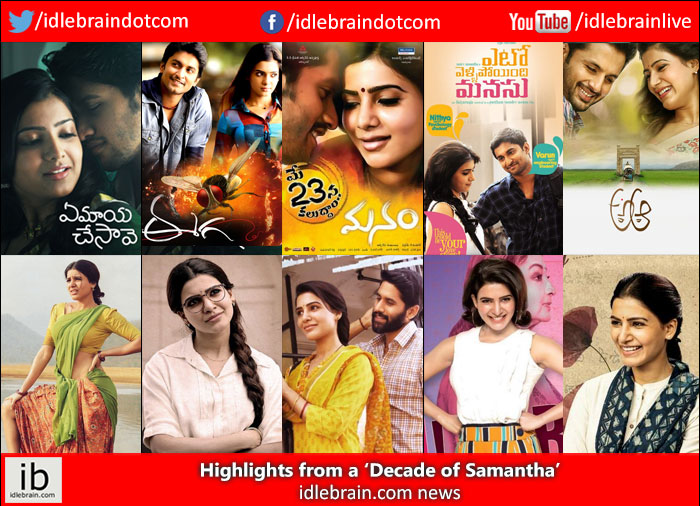 3 March 2020
Hyderabad
From the word go, she was a star. It's no wonder then that Samantha Ruth Prabhu, now Samantha Akkineni, has not just enjoyed stardom for a decade since the release of her debut film Ye Maaya Chesave, but also seems to have a long way to go. This is quite a feat in a male dominated industry where the shelf life of an actress is low because of the constant need to bring in "fresher" female protagonists for the heroes who enjoy huge fandom and hero worship.
However, Samantha's long (and seemingly one that's not ending anytime soon) innings is a result of hard work, talent and wise choices. After all, the "commercial" heroine doesn't often get roles that give her scope to perform. She's been quite lucky in that regard with some really good characters coming her way even in the commercial space. But getting good roles is only the first step because Samantha took up each role and owned it in such a way with such phenomenal performances that we regard her as a good actress today.
Very recently, she completed 10 years in the Telugu film industry. Fans celebrated and became nostalgic of several of the moments in the glorious period of their dear Samantha. And so, we decided to give you a quick lowdown of some of her best performances. Read on as we go back to 10 of her best acts in Telugu cinema…
Ye Maaya Chesave (2010)
This was a love story that captured the imagination of an entire generation of Telugu cine goers. And Jessie was surely the woman who stole many hearts. Samantha's debut was phenomenal not just because the story, direction and music worked but also because this new girl on the block made an impression with her inimitable smile and undeniable charm. Little did we know then that we were in for a decade of beautiful stories and performances by the impressionable young talent.
Eega (2012)
After her debut film, Samantha yet again shone in this Rajamouli flick. In a film about a fly, Samantha was surely the show stealer! While Nani and Sudeep had their moments of glory, it was the actress who left everyone impressed by the ease with which she romanced the idea of a housefly. Playing the girl who is mourning the death of the guy she loves and transitioning into the revenge mode in no time, Samantha did win brownie points for her act as much as for the deglam avatar.
Yeto Vellipoyindi Manasu (2012)
With a subtle performance that showed us how versatile she is, Samantha won hearts with this film. Especially her act in the dying stages of the movie made a mark. This film (which was made in both Telugu and Tamil) saw the actress win multiple awards as well. Yet again, in a role that wasn't glamourous, she proved that she's here to show her acting chops and set the ball rolling for many more performance oriented films in the future.
Manam (2014)
In a film that is surely a milestone of Telugu cinema – after all, it's not every day that you see actors of three generations come together for a film that is also a great cinematic experience – Samantha managed to make a mark. Transforming between two roles, she was quite a revelation as she unleashed an good mix of innocence and naughtiness! While her combination with Naga Chaitanya is surely something no one missed, what also garnered attention was how she had an amazing onscreen compatibility with future dad-in-law Nagarjuna.
A… Aa (2016)
It's only a chance that Samantha needs to shine. Even in a miniscule role in a film that revolves around a male lead, she never fails to leave a mark. And A… Aa was surely an opportunity where her moments of shine were large and many. She got the lead role where she got to take the limelight and also a little credit for the big box office numbers alongside Trivikram and Nithiin. Well, Anasuya's silliness, stubbornness and unreasonable nature alongside her good heartedness just charmed the audiences way to the box office!
Rangasthalam (2018)
On an afterthought, no one could have played Rama Lakshmi like Samantha did. Bringing in the perfect blend of innocence and glamour to the role of a country girl she wowed the audiences in every aspect of the word. It was worth noting that this film released post her marriage to Naga Chaitanya and it really was a big moment to see a married actress take the big screen by storm in all its glory. This village belle was the heart of the film for many reasons and surely will remain a character that will define the actress' performance skills.
Mahanati (2018)
It's probably only Samantha who has had the luck of such variety in roles amidst her contemporaries. And of the many films she has done, Mahanati surely stands out as special. She may not have won awards as she made way for Keerthy Suresh who earned glory and even a National Award, but she surely made the choice of taking up a role that may not get as much recognition as the lead actress who'd play Savitri. It was a big decision to make and she did. Samantha enthralled one and all in the role of a journalist who is learning about her own life as she understands Savitri.
Majili (2019)
For a woke woman like Samantha, it can be quite a challenge to take on the role of a submissive wife who puts up with the childish and unreasonable behavior of a husband who doesn't come to terms with reality. However, the actress not only took up but also gave one of her best performances in a role that will remain memorable for how composedly she played a character that was different from anything she had taken up before. She became the heart of a film that portrayed love in a unique way that isn't quite seen in films of today and she nailed it. Possibly it was working with her husband or just the need to be the plain Jane, she left everyone talking about her for all the right reasons.
Oh! Baby (2019)
Samantha is a woman of style and substance, no doubt. But getting a role that is able to bring to fore both the qualities is a rare opportunity for any actress. But with Oh! Baby, the actress took on the mantle of not just carrying a film on her shoulder but also of sending out a message. From pulling off a slang (which you could spot even though she didn't dub for herself), to unleashing a style like never before, Oh! Baby is a Samantha film that will be a must watch for a lot of reasons other than the perfect casting choices and great performances.
Jaanu (2020)
When remaking a film, the biggest challenge is comparisons that come to fore in terms of the actors or even the way the film is made. And Samantha, who understood that 96 was a classic, took up the challenge nevertheless just in search of a good role that would give her a chance to perform. She approached the character in her unique style and ensured that everyone who compared also saw what she added to own the character of Jaanu.