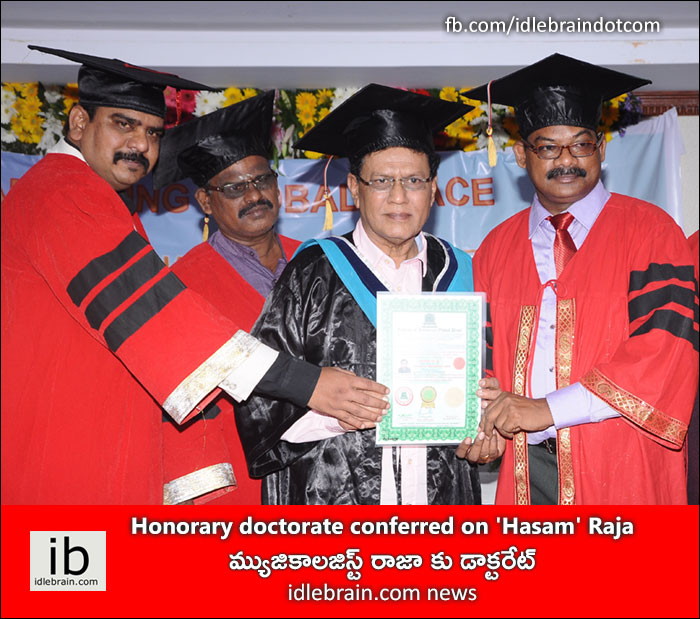 26 June 2016
Hyderabad
Musicologist Mangu Raja, who became popular as 'Hasam' Raja, was on June 25 conferred a honorary doctorate by the Academy of Universal Global Peace, in Bengaluru. The Academy is internationally recognized in about 77 countries.
The doctorate was conferred on the learned musicologist in recognition of his yeoman services in the field of critiquing the Telugu music of all genres. With his music-related essays and reviews, he has educated the readers over the years. With his research works and analyses, 'Hasam' Raja has enriched the critique. A thoroughly informed person, he has served eminent film personalities, too.
More about Raja:
He is known to point out the roots of a song even if the root song belongs to a non-Telugu language. For about 40 years, he has served to offer film songs as a research subject. He has collected about 40,000 songs and about 1,000 film information troves. Raja was recently accorded recognition by the Delhi Telugu Academy. On receiving that recognition, the musicologist had said, "I began the research on Telugu film songs with the intention of making available to all the information related to them. In this endeavour, I have been adding all the information on my site, rajamusicbank.com. Till date, I have collected information related to some 40,000 songs. My birth is related to my parents. My death is related to my wife and children. I have dedicated my life to the Telugu film song. My view is that it would be great if the Government sets up a committee to institute a corporation for the purpose of the Telugu film song. I am willing to give the bank I have developed to the government."
తెలుగు సినీ సంగీతానికి వ్యాసాల ద్వారా, రివ్యూ ల ద్వారా తన పరిశోధనలను, విశ్లేషణలను అందించడమే కాకుండా , తన వద్ద గల సమాచారం తో సినీ ప్రముఖులకు కూడా సేవలను అందిస్తున్న మ్యూజికాలజిస్ట్ రాజా కు గౌరవ డాక్టరేట్ లభించింది. అంతర్జాతీయం గా 77 దేశాలలో గుర్తింపు ని కలిగిన అకాడమీ ఆఫ్ యూనివర్సల్ గ్లోబల్ పీస్ సంస్థ జూన్ 25 న బెంగళూర్ లో ఈ డాక్టరేట్ ని రాజా కు అందజేసింది .