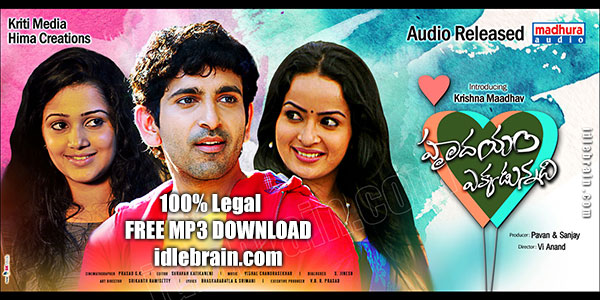 2 December 2013
Hyderabad
Prince Mahesh Babu who rarely attends for functions has attended the audio launch of his relative and the new hero Krishna Maadhav who is debuting with Hrudayam Ekkadunnadi. The audio function had been a great success and Krishna Maadhav has become the hot topic of tinsel town.
The team of HEU want to spread the love of music to the audience this holiday season.Seeing the tremendous love and support in such a short period, the producers decided to give the audio songs of this movie for free to download from the internet .The Marketing team came up with a new approach to creatively engage the audience and removed the barrier of paying by giving it away.The team is giving this unique opportunity first time in the history of telugu cinema
The music has won the hearts of everyone from melody to fast track, with Peppy music and catchy lyrics from Bhaskar Bhatla and Srimani.
Vishal Chandrasekhar, who is from AR Rahman School of music has composed the songs expressing various moods . The entire album is a must listen for all the music lovers out there
HEU team is giving a detailed description of all songs for the audience to feel the connection. So hurry up folks!!!! You can now enjoy this music with just a click on your computer
Moving fwd it's your music
1. Song: Shajahan Tajaina
Lyrics: Srimani
Singer: Ranjith
Hero introduction song. Song establishes the character of the protagonist. It is a very fast peppy dance number with lots of energy and fun. Targeting high octane modern youth and students, this song is stylish and contemporary.
2 Song: Hey Gayathri
Lyrics: Srimani
Singer: Vijayprakash
Love montage song. This number captures the growth of love between hero and heroine. It traces beautifully the transition of relationship from friendship to love. Easily sing-a-able and very addictive number that will attach with audience mind at the very first hearing.
3. Song: Manasu Ante Inthena
Lyrics: Bhaskar Batla
Singers: Rahul Nambiyar
Climax song. This key finale song explains the human's confused mind in a very funny and interesting way. Lyrics are so casual yet very thoughtful. Song depicts "monkey mind" behavior in all of us, which is precisely the concept of the whole film. The music & orchestration will definitely rock audience of all age groups.
4. Song: Edo Edo Chilipikala
Lyrics: Srimani
Singer: Karthik & Sindhuri
Duet Song. A very beautiful melody song that captures the chemistry between hero and the heroine. It's a song meant for the hard core music lovers. It is mesmerizing and soulful. It will linger in the minds of everyone for a very long time. An evergreen love song that will stand the tests of times.
5 Song: Aey Chittamma
Lyrics: Bhaskar Batla
Singer: Ranjith & Hemachandra&Sridivya
item number. Foot tapping dance number and this song will be a next super hit mass number. We will hear it on autos, teashops and in all festivities. Bhaskar batla's lyircs have added soul and life to this catchy item song.
Directed by Vi Anand this movie is being produced by Pavan Mantripragada and Sanjay Muppaneni under kriti media and hima creations starring Krishna Maadhav, Anusha and Samskruthi