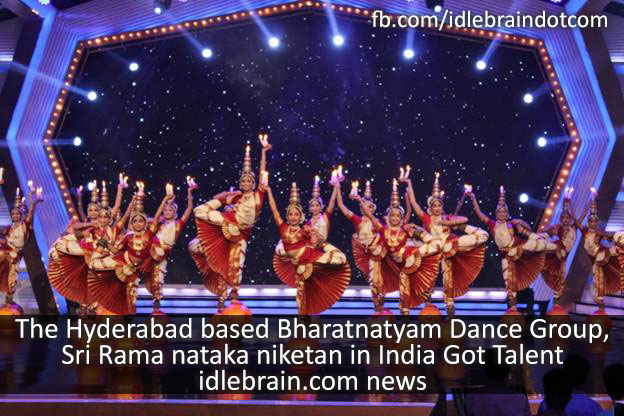 28 February 2014
Hyderabad
The Hyderabad based Bharatnatyam Dance Group, Sri Rama nataka niketan have made it to the Semi-finals of the popular talent show on TV - India's Got Talent aired on Colors Channel.
They were the privileged few who got a direct entry into the semi's with the golden buzzer. Malaika Arora Khan, Kiran Kher and Karan Johar are the judges, who were awestruck from the beginning till the end of the presentation. Their standing ovation is the testimony of the brilliant performance the group had put up.
Discipline, poise and dedication to the art was visible throughout the entire recital.
Malaika and Kiran did a classical jive amongst the enthralled participating girls.
This time around no. of public votes will decide if they get through to the FINALS so please vote for their group by sending an SMS and Voting online. Please socialize :)
Let us put our local talent on the national map, one vote , one sms will make a lot of difference. Please vote for mana Hyderabadi group so that they get an entry into the finals.
Please watch their performance on 2nd March - 9:00 pm onwards on Colors Channel (known as Aapka Colors in the United States (available on Dish Network).
SMS SRI to 56882 and Vote online at colors.in.com/igt
Voting Opens on Sunday, 2nd March 2014 at 10.00 PM. Voting per cell phone 100 SMS allowed and per computer or laptop 100 votes allowed.
Group Name: Sri Rama nataka kaniketan Group