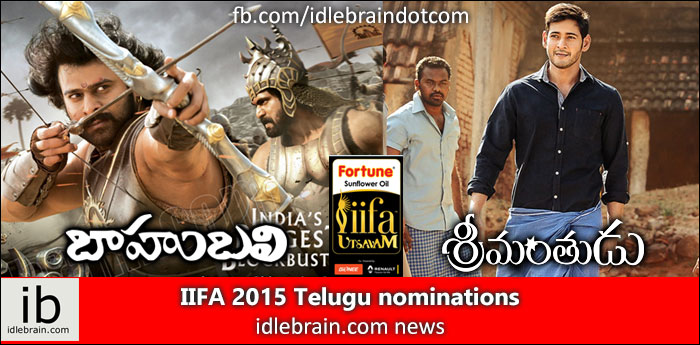 25 November 2015
Hyderabad
TELEGU NOMINATIONS ANNOUNCED FOR THE PREMIERE EDITION OF THE FORTUNE SUNFLOWER OIL IIFA UTSAVAM AWARDS POWERED BY GIONEE
~ Baahubali takes the lead with 14 nominations followed by Srimanthudu with 11 nominations ~
Fortune Sunflower Oil IIFA Utsavam Awards co-powered by Gionee smartphone and Renault – Passion for Life today announced the nominations for their premiere edition. A landmark event in the illustrious history of the Cinema of South India, The International Indian Film Academy (IIFA) launched the Fortune Sunflower Oil IIFA UTSAVAM powered by GIONEE smartphone and Renault- Passion for Life, the magnificent extravaganza envisioned to honor and recognize the best of South India's film industry.
An initiative by Wizcraft International Entertainment, IFA Utsavam aims to recognize and commend the best across the South Indian film industry with a voting process based on a peer-to-peer recognition, members of the music industry encompassing industry stalwarts, music directors, producers, lyricists, singers, technicians, composers and leaders in the music business vote for winners across all the categories. The votes are then tabulated by KPMG who are the process auditors for IIFA Utsavam, after which the winners are determined.
Speaking on the occasion, Andre Timmins, Director Wizcraft International Entertainment Pvt. Ltd said, "This is the start of a truly amazing journey and we are firmly committed to honoring the best talent in the South film industry. The caliber of our nominees speaks volumes and December will see a fantastic beginning with the 1st edition of IIFA Utsavam."
Mr. AngshuMallick, COO, AdaniWilmar Ltd, commented on sponsoring the event, "AdaniWilmar Ltd. is one of India's fastest growing food company with a turnover of more than 3 billion USD. Fortune – India's No 1 edible oil brand, is proud to associate and present IIFA Utsavam. We have chosen Fortune Sunflower Oil, one of our most prominent brands in the South Indian market to bring forth this partnership. With our wide range of product portfolio of edible oils, basmati rice, pulses, soya chunks &besan, we look forward to being the preferred brand of every South Indian consumer by reaching out with an array of celebrity engagements as a result of our partnership with IIFA Utsavam. With the legacy of IIFA in the Indian entertainment space, we proudly look forward to the best entertainment extravaganza south of India is going to witness."
Kamal Haasan commented "IIFA Utsavam is a wonderful initiative taken by the International Indian Film Academy to help build the outreach of film industries across India. Given the global acclaim of the IIFA platform I am confident that it will become an instant opportunity for greater recognition to South Indian film industries and our work. It is great to see an endeavour such as IIFA Utsavam to help give our cinema maximum exposure to audiences and media around the world. Having participated at previous IIFA Weekends, it is a truly impressive and world class brand to be associated with. So I am excited and look forward to the prospects of bringing IIFA to India with IIFA Utsavam and the anticipated scale, glamour and presentation that they will be creating in India at the event in Hyderabad.
Arvind Vora, Country MD and CEO, Gionee India, commented "Gionee is proud to be associated with IIFA Utsavam, which is a great platform to recognize the efforts of the film industry who have put in their efforts to entertain audiences in the country and the Southern part of the country in particular. Cinema as a medium cuts across our consumer base and this platform is a great place to connect with our consumers"
A.R Rahmansaid "Truly IIFA Utsavam is going to be a huge event for the Indian Film Industry and the entire fraternity is looking forward to it. With the attention it is going to receive, I am sure it will change the way how South Indian cinema is perceived not only in India but world over. I am very excited to extend my support IIFA Utsavam."
Speaking on the association, Mr. Rafael Treguer, Vice President, Sales and Marketing, Renault India said, "Renault has entered a new phase of growth in India, powered by our product offensive strategy. Our brand celebrates 'Passion for Life', which is reflected in all the platforms we partner with. IIFA Utsavam, celebrates the prestige and glory of South Indian Cinema, by felicitating and recognizing superlative achievers and their triumphs. We are proud to be associated with this platform, as it reflects Renault's passion for celebrating life with elements of culture, entertainment, films and music."
Tamannaah said "It is a moment of great pride that IIFA Utsavam will take place in Hyderabad this year. The nominations showcase the rich and diverse talent pool that makes up the South Indian film industry and it's a great honour for those who make it a success to be lauded on the IIFA Utsavam stage"
 S.J. Clement, Network Programming Head, Sun TV Network commented, "Sun TV Network is proud to be associated with the Premiere edition of IIFA Utsavam 2015, a pioneering event that will present the finest among the South Indian film fraternity. Sun TV Network reaches around 58 million households in the country. Increasingly, our programming is being accessed by the South Indian diaspora across the globe. We believe in delivering consistently high quality entertainment through our unrelenting focus on premium content. Our collaboration with IIFA reiterates our commitment to be at the leading edge of broadcast media industry. Sun TV Network will be the official broadcast partner of the IIFA Utsavam event and shall telecast the Red Carpet and Nomination episodes on its flagship channels Sun TV, Gemini TV, Udaya TV and Surya TV on Jan 3, 2016. The finale of the event will be awards ceremony with star studded performances, which will be telecast on Jan 10, 2016."
 Leading the nominations is the Baahubali directed by S SRajamouli. The film has been nominated across a whopping 14 categories including Best Picture - ShobuYarlagadda / Arka Media, Direction - S SRajamouli, Leading Role Female – Tamanna, Leading Role Male – Prabhas, Lyrics - K Shiva Dutta, Music Direction - M M Keeravani, Negative Role - Rana Daggubati, Supporting Role Female - Ramya Krishna and Supporting Role Male – Satyaraj The film has scored triple nominations for Playback Singer Female - Satya Yamini, Geetha Madhuri and Damini and double nominations for Playback Singer Male – Revanth and Deepu.
Second in the lead is Srimanthuduwhich has been nominated in 11 Categories - Best Picture - Y Ravi Shankar / G Mahesh Babu Entertainment, Role - Vennela Kishore, Direction - Koratala Siva, Leading Role Female - Shruti Hassan, Leading Role Male - Mahesh Babu, Lyrics - RamajogayyaSastry, Music Direction - Devisri Prasad, Negative Role – Sampath, Playback Singer Male - SastrySagar, Supporting Role Female – Thulasi, Supporting Role Male - Jagapati Babu
Global Voting for IIFA Utsavam will be open from 18th November 5pm till 27th November Midnight.The Fortune Sunflower Oil IIFA Utsavam Awards powered by Gionee smartphone and Renault – Passion for Life promises to be a magical evening witnessed by some of the most prolific names in the South Indian Film Industry.